Friend of San Bernardino shooter slapped with federal charges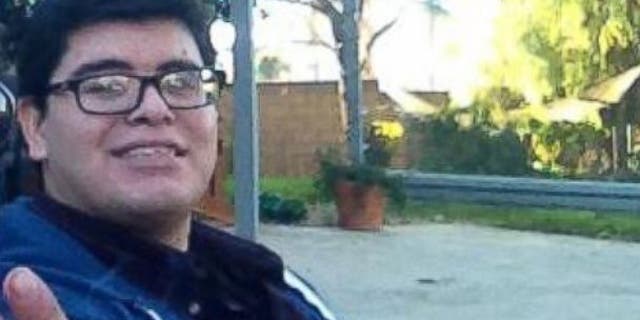 The man who bought the assault rifles used by the San Bernardino shooters was charged with conspiring to give material support to a terrorist plot, federal officials announced Thursday.
Enrique Marquez, 24, is a former security guard described as a close friend of Syed Rizwan Farook, his one-time next-door neighbor.
Marquez legally purchased the high-powered weapons used by Farook and his wife, Tashfeen Malik, to kill 14 people at a holiday gathering of Farook's health department co-workers on Dec. 2. The couple also injured several others before dying hours later in a shootout with police.
Authorities previously said Marquez legally bought the rifles at least three years ago, but they did not say how Farook and his wife got them.
The FBI says that it is investigating the rampage as an act of terrorism and that the Muslim couple had discussed jihad and martyrdom as early as 2013. Farook's wife declared her allegiance to the Islamic State group in a Facebook posting shortly before the attack, the FBI said.
Investigators also were exploring whether Farook and Marquez aborted plans to launch an attack in 2012. They "were plotting an actual attack" that year, including buying weapons, but became apprehensive and shelved the plan because of arrests in the area, said Idaho Sen. Jim Risch, a Republican on the Senate Select Committee on Intelligence.
Marquez had deep ties with Farook that extended to a family connection. The two grew up next door to each other in Riverside and then became related through marriage.
The friends were witnesses at the wedding of Farook's brother, Raheel, to a Russian woman in 2011, according to Riverside County marriage records. Last year, Marquez married the sister of Raheel Farook's wife, making Marquez and Raheel Farook brothers-in-law.
Records show that Marquez married Mariya Chernykh at a ceremony at the Islamic Society of Corona-Norco, though the mosque's facility manager denied it occurred there.
Marquez was said to be a convert to Islam but was not a member of that mosque, Azmi Hasan said. Marquezworshipped there three to four times over seven years, Hasan said.
Right after the shooting, Marquez called his mother to say he was safe but that he wouldn't be coming home, neighbor Lorena Aguirre said. He later checked into a mental health facility.
Three days after the attack, federal agents raided his mother's house in Riverside, a city near San Bernardino that is about 60 miles east of Los Angeles.
Armida Chacon has said her son is a good person who loved to hang out with friends and go to parties, according to The Los Angeles Times.
"I don't know how this happened. ... My world is upside-down," she said tearfully.
When asked about Syed Farook, she said her son was friends with him and "nothing more."
Marquez's friends described him as a friendly, easygoing guy who was not religious and rarely discussed his family or marriage.
Marquez was a licensed security guard for several years, but his license expired at the end of 2014. He was hired to work at Wal-Mart in May but has since been fired, a company spokesman said.
Based on reporting by the Associated Press.
Like us on Facebook
Follow us on Twitter & Instagram