French woman kidnapped in Yemen set free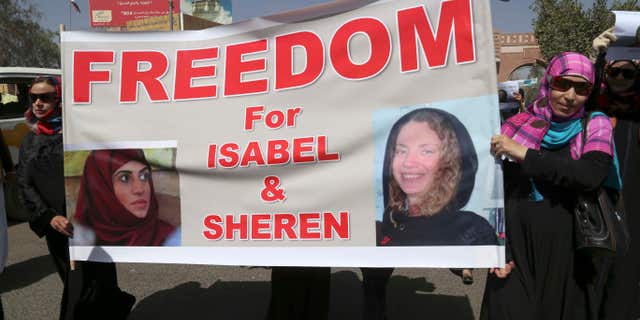 PARIS – A French woman who was abducted in Yemen in February along with her translator was on her way home on Friday after being freed.
Isabelle Prime, 31, had been working in Yemen for the World Bank for about a year when she was kidnapped.
She is now in the hands of French authorities and will return to her country Friday evening, according to a statement from French Foreign Minister Laurent Fabius, who like the president thanked Oman for its help.
The state-run Oman News Agency quoted an unnamed official at the Ministry of Foreign Affairs confirming that Prime arrived in the sultanate early Friday in preparation for her repatriation to France. Oman played a role in negotiating her release in coordination with "some Yemeni parties" following a request for help from the French government, according to the report.
Oman borders Yemen and stands apart from its Gulf Arab neighbors in maintaining cordial relations with Iran, which backs the Shiite Houthi rebels fighting in Yemen.
The Arabian Peninsula nation has played a role in facilitating the release of other captives, including American freelance journalist Casey Coombs, who was released by Shiite Houthi rebels earlier this year.
It also was an intermediary in the release of three American hikers detained by Iran along the Iraqi border in 2009. One of the hikers, Sarah Shourd, was released after more than 13 months in custody following mediation by Oman. Fellow hikers Josh Fattal and Shane Bauer were later convicted as spies but then set free a year after Shourd's release, also via Oman.
Details of Prime's release, including what group had been holding her, weren't divulged Friday.
"The liberation of Isabelle Prime shows again that France never abandons its own," Fabius said.
Prime was abducted in the rebel-held capital, Sanaa, along with her Yemeni translator, who was released shortly afterward.
Earlier this year, a video surfaced showing Prime pleading for help. In the video, she appeared frail and anguished, and she urged the leaders of France and Yemen to allow her to return to France.
Chaos is rampant in impoverished Yemen, with pro-government forces battling Shiite rebels.
Omani and French embassy officials in Muscat could not be reached for further comment, and government offices are closed for the local weekend.