French court convicts tabloid over Hollande's partner photos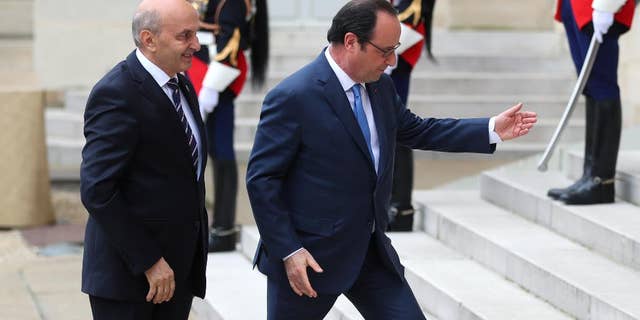 NEWYou can now listen to Fox News articles!
PARIS – A French court has found a tabloid newspaper guilty of violation of privacy for publishing unauthorized photos of President Francois Hollande and his partner, actress Julie Gayet, sitting together in a terrace at the Elysee palace.
A court in Nanterre, outside Paris, sentenced the publication director for Voici tabloid, Rolf Heinz, to pay a 1,500-euro ($1,670) fine and one euro in damages to Gayet, and ordered a conviction statement published on half of the magazine's front cover.
The weekly newspaper published the pictures on November 2014, a few months after another tabloid revealed that Hollande had an affair with Gayet while still living as a couple with his official companion, Valerie Trierweiler.
Even after Hollande and Trierweiler broke up following the disclosure, Hollande never made his relationship with Gayet official.