French citizen fatally gored in Spanish town's bull-running festival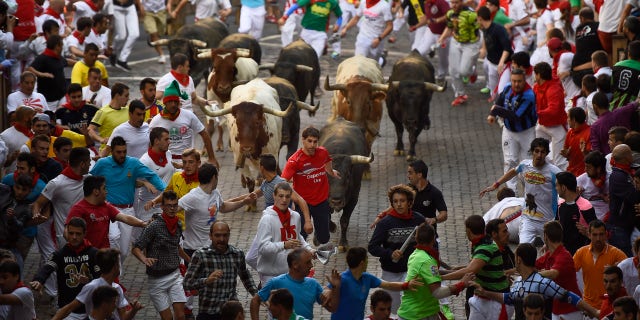 MADRID (AP) – Pamplona's famed San Fermin festival held its last bull run Tuesday with no fatalities in the nine-day event, but officials said a French tourist died after being gored by a bull in a small town festival in eastern Spain.
A statement from the town hall of Pedreguer said the 44-year-old man died around 1 a.m. after being gored during a bull-running event held as part of the town's summer festival.
It was the third death from a goring in festivals in recent weeks around Spain.
Ten people, including four Americans, were gored in this year's festival in Pamplona, the country's most celebrated such event, but no one was killed.
Fifteen people have died from gorings in the Pamplona festival since 1924.
Bull runs are a traditional part of summer festivals across Spain. Dozens are injured each year, mostly in falls.
In Pamplona's final run, hundreds of people raced alongside six fighting bulls from the renowned Miura ranch, considered among the fiercest in Spain.
One bull charged into a bunch of runners, knocking around 10 people to the ground.
The San Fermin press office said five people were treated in city hospitals for bruises suffered in falls or from being trampled on by the beasts or other runners but none was in serious condition. No one was gored Tuesday.
The July 6-14 fiesta, named after the northern city's patron saint, dates back to the late 16th century. It was immortalized in Ernest Hemingway's 1926 novel "The Sun Also Rises" and attracts thousands of tourists.
The 8 a.m. runs see people dashing with six bulls and their guiding steer along a narrow 930-yard (850-meter) course from a holding pen to the city's bullring. Tuesday's run lasted 2 minutes, 5 seconds, the fastest of the eight held in the festival.
The bulls are killed by professional matadors in bullfights each afternoon during the festival.
Like us on Facebook
Follow us on Twitter & Instagram