French, British boats fight over access to scallop-rich waters, video shows
A dramatic video has emerged showing French and British fishermen battling for access to the scallop-rich waters off France's northern coast.
The confrontation between 35 French boats and five British vessels in international waters began early Tuesday morning. The video captured the boats banging hulls while they fought over the territory, while it also showed at least one firework rocket being launched.
POPE FRANCIS FACING CALLS TO RESIGN; SEXUAL ABUSE SCANDAL EXPOSES RIFTS IN THE VATICAN
Two British boats were chased away by the French and returned to Brixham Harbour in Tor Bay. The boats' windows were damaged, according to the BBC. The crew alleged rocks and metal shackles were hurled at them.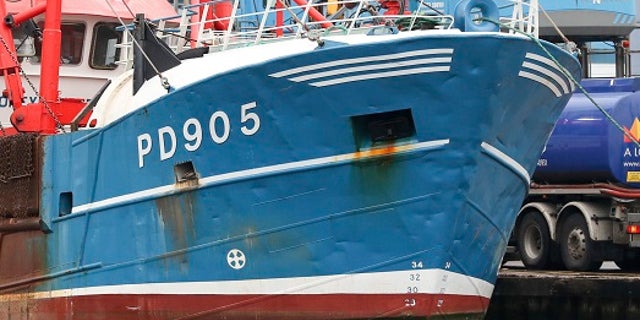 Maritime official Ingrid Parrot called the incident "very dangerous" and said French maritime authorities "really hope things will calm down." No injuries were reported.
GREEK FERRY FIRE SENDS SMOKE BILLOWING, BUT ALL ABOARD SAFE
"Things were thrown on both sides -- from the English and from the French. Both parties were extremely tense," Parrot said.
Parrot said every year there are problems between French and British fishermen over access to lucrative scallops, but it's usually without violence.
British boats are legally allowed to collect scallops year-round, but French law restricts the scallop fishing season to between October 1 and May 15. The French however have accused the U.K. of "depleting shellfish stocks".
Dimitry Rogoff, who heads the Normandy fishing committee, told the BBC: "For the Brits, it's an open bar - they fish when they want, where they want, and as much as they want.
"We don't want to stop them from fishing, but they could at least wait until 1 October so that we can share."
British fisherman Nathan Clark, skipper of the Joanna C, told the Daily Mail that they would not be intimidated by the French.
"It won't stop us. We'll take a few days off but we'll go back out their again,"
The Associated Press contributed to this report.