France: 'Perpetual' house arrest prompts vote, hunger strike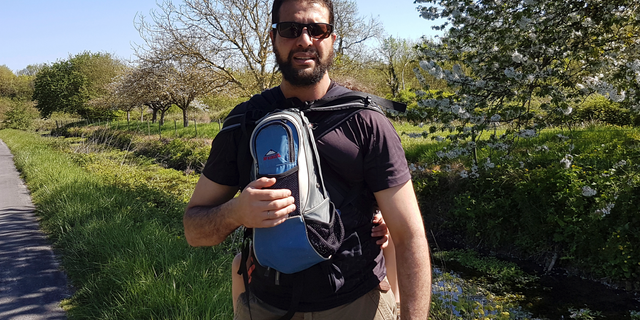 PARIS – Kamel Daoudi's days are parceled out in intervals as unvarying as the alarm reminders on his tablet: 7 a.m., 9:15 a.m., 11:45 a.m., 3:15 p.m., 5:45 p.m., 9:00 p.m.
The times represent his nightly curfew and the exact minutes Daoudi must report to a French police precinct — terms of the house arrest he has lived under since 2008. A vote scheduled for Thursday is expected to continue "open-air prison" indefinitely.
Convicted in 2005 for a plot to bomb the U.S. Embassy in Paris, Daoudi was stripped of his French citizenship while awaiting trial and ordered expelled to Algeria, the country of his birth, after he served six years in prison.
But France has been repeatedly warned by Europe's top human rights court not to deport people to Algeria, which has a checkered history of torture and other human rights abuses. French officials took heed in Daoudi's case, but and imposed his indefinite house arrest in return.
He appealed to France's highest court, which ruled in his favor on Nov. 30 and gave lawmakers until June 30 to provide the legal justification for the house arrest.
The vote scheduled for Thursday does just that — a measure allowing non-citizens who cannot be deported and are considered dangerous to have their movements indefinitely restricted. It also makes it easier to detain asylum-seekers who are considered flight risks.
"We absolutely have to be able to monitor the presence in France of potentially dangerous people, including some who have been convicted of terrorism," Senator Francois-Noel Buffet said in a Jan. 25 debate, acknowledging the revised law may be imperfect,
In what he called a desperate protest, Daoudi began a 133-hour hunger strike on Feb. 7, refusing food and drink until he risked missing one of his required daily check-ins. He recognizes the strike was almost certainly a vain effort to change lawmakers' minds.
"There's the rule, there are the exceptions, and there are the exceptions to the exceptions that give legal status to perpetual house arrest," he said in a phone interview on Day 2 of his hunger strike.
Daoudi, 43, has been required to move repeatedly since he first was placed under house arrest. His French wife and children stayed behind when he was relocated last year for the fifth time, 500 kilometers away to the southwestern town of Saint-Jean-d'Angely.
His wife left their children with relatives to be with him during the hunger strike. By Monday, she had taken over his Twitter account. He was posting again on Wednesday.
Daoudi's case arose in the aftermath of the Sept. 11, 2001, attacks in the United States. Charged alongside him with "terrorist association" was Djamel Beghal, the suspected ringleader of the plot that allegedly spanned five European countries. Beghal claimed his confession, upon which the case hinged, was obtained under torture in Dubai.
Daoudi and Beghal lived in the same apartment in the Paris suburb of Corbeille-Essonne. By mid-2001, both had made their way to Afghanistan, later telling judges they hoped to deepen their knowledge of Islam.
Daoudi denied any role in the plot, saying he was snared because of his association with Beghal, a fellow Algerian who also was subject to house arrest when he was released from prison.
Beghal went on to use his free time to mentor the extremist gunmen who attacked the satirical newspaper Charlie Hebdo and a Paris kosher supermarket in January 2015. He is back in prison.
Daoudi says he has distanced himself from that life, denying any hatred toward France, where he has lived since he was a child and where his wife and four children were born. He has not been charged with a crime since leaving prison.
"This is an allegation that just doesn't stand up," he said. "It stems from fear."
He said he has asked 35 countries to take him without a single response.
"Even the Interior Ministry acknowledges there is no chance I'll be accepted by another country."