Fourth death reported in Venezuela food riots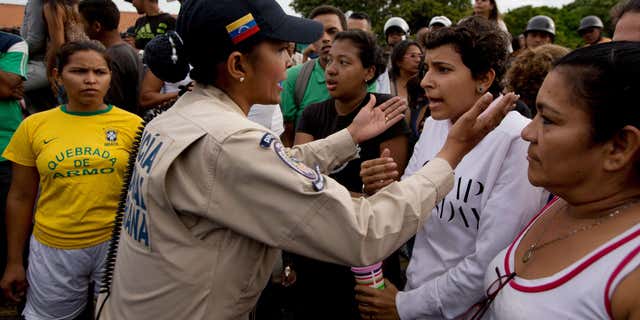 NEWYou can now listen to Fox News articles!
CARACAS, Venezuela – A wave of lootings and food riots in crisis-hit Venezuela claimed a fourth life Wednesday and security forces stepped up their presence in a coastal city where more than 20 businesses were violently ransacked.
Officials confirmed that a 17-year-old had died in a hospital in the restive mountain town of Merida after being shot Tuesday during disturbances there.
On Venezuela's coast, security forces patrolled the streets of Cumana after businesses were looted. Luis Acuna, the socialist governor of Sucre state, said that more than 400 people, some of them minors, were detained during protests on Tuesday that witnesses said were sparked by food shortages.
Following the vandalism, the city's mayor suspended the use of motorcycles for 72 hours. There were reports that two people were killed during clashes but Acuna said the deaths were unrelated to the disturbances.
At least 10 looting incidents, many of them dispersed by tear gas and riot batons, are occurring daily across Venezuela, according to the Venezuelan Observatory of Violence.
On Tuesday, dozens of residents of a working-class Caracas neighborhood blocked a major thoroughfare less than 2 miles (3 kilometers) from the presidential palace to protest a lack of food. They chanted: "We want food, not mangos," a reference to the increasing dietary dependence on Venezuela's tree-grown tropical fruits when basic staples like flour and milk are impossible to come by.
The government blames the chronic food and medicine shortages on the opposition and an "economic war" it says is being waged in league with the U.S. government.
To avoid the threat of unrest associated with long food lines, it has assigned neighborhood committees linked to the ruling socialist party to distribute food. The move has angered some residents and the opposition, who equate it to rationing and an attempt to force loyalty among Venezuela's poor — traditionally the government's most steadfast constituency but one hard hit by triple-digit inflation and a tanking economy.
"The looting is going to continue because there's hunger," Roberto Briceno Leon, director of the Venezuelan Observatory of Violence, told the AP. "The government's response appears to be insufficient or politicized, so people are resorting to robbery."
On Wednesday, the U.S. Embassy in Venezuela advised American citizens living in the country that protests and unrest are likely to continue over the coming weeks and urged them to take extra precaution.