Fort Hood's Killeen, Texas: A Puerto Rican Enclave In The American Southwest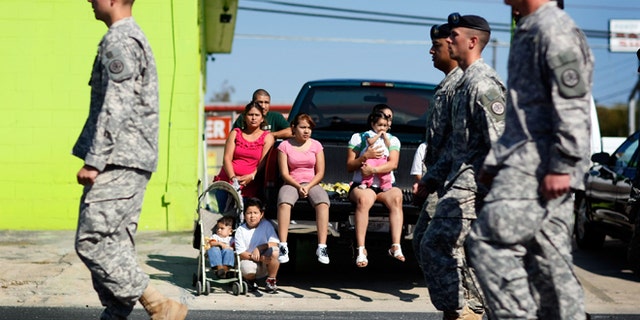 NEWYou can now listen to Fox News articles!
Among the three people killed and 16 injured at Fort Hood, Texas, by a soldier from Guayanilla, Puerto Rico, on the southern coast, was another soldier from the island, this one from Aguadilla, in the northwest corner.
Though Puerto Ricans are not numerous outside the base, as Raul Villaronga, 76, the former mayor of Killeen, Texas, told Fox News Latino, "There are a lot of Puerto Ricans in the Army, and if you're in the Army, at some point you will come through Fort Hood."
Villaronga ought to know. In 1992, when he was elected the chief executive of the community of 130,000 or so, he became the first person of Puerto Rican descent to become mayor of any city in Texas.
Raised in Ponce, P.R., Villaronga first came to Texas in 1954 when he enrolled at Texas A&M, where he joined the Officers Training Corps and joined the Army after graduation. His last duty station was Fort Hood.
"My original plan was to retire in Houston, where my wife and I had property," Villaronga explained. "But this is a good place to be."
And when service personnel decide to stay in the vicinity of Fort Hood, he said, they generally pull family members with them.
Another local politician, a Killeen city councilman who owns his own real estate agency, José Segarra, 49, was born in Ponce as well. His family moved to Chicago when he was 3. He joined the Army right after high school. "For people who don't want to go to college," he told Fox News Latino, "the Army offers a great opportunity."
In fact, for Segarra, enlisting allowed him to get in touch with his Puerto Rican roots. "It wasn't until I joined the Army that I got to know and understand island culture a little better," he said, because he met and got to be friends with other Boricua soldiers.
"This was my last duty station in 1992, and I remained here," Segarra explained. "Because of Fort Hood, there's access to a good hospital—and the weather! For someone who grew up in Chicago, not having blizzards was a big plus."
His sister and mother seemed to agree; they moved to the area in the years that followed.
Villaronga and Segarra say that a big part of what makes the communities around Fort Hood so special is thanks to the military presence.
"I was a mechanic in the Army," Segarra observed. "Now I have 16 agents working for me. I serve on the city council. To be Hispanic, not well-educated and to get to do what I do around here is tremendous. Because of the military."
Unusually for Texas, which is heavily Mexican in its Hispanic populace, there is a significant percentage of Puerto Ricans that live in and around Fort Hood. In Killeen, there are a handful of businesses in town owned by and catering to Puerto Ricans, including a restaurant and a coffee shop.
"When I was mayor," Villaronga said, "I took an interest in the demographics. About one-quarter to one-third of the Hispanics here are Puerto Rican. This is a well-integrated community, with all kinds of people living in all neighborhoods. We have learned to work together and live here, too."