Former official denies suspicions that Israel poisoned Arafat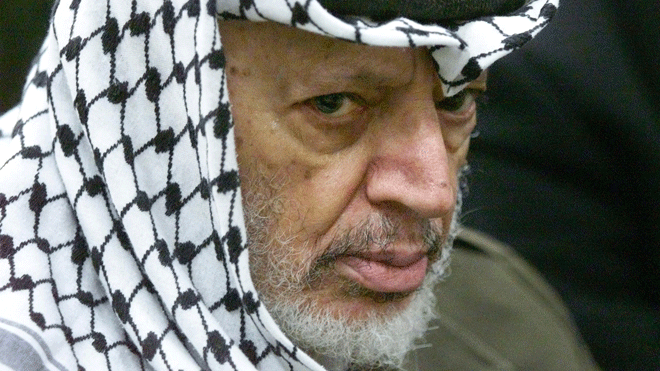 JERUSALEM – A former Israeli official on Wednesday denied suspicions that Israel poisoned Palestinian leader Yasser Arafat as France prepared to begin an investigation into his possible murder following a Swiss lab's claim that it found traces of a deadly substance on his belongings.
Dov Weisglass, chief of staff to then-Israeli Prime Minister Ariel Sharon at the time of Arafat's death in 2004 and a key participant in deliberations surrounding Arafat's worsening health, said Israel had no reason to physically harm the Palestinian leader. For the last two years of Arafat's life, Israel confined him to his headquarters in the West Bank town of Ramallah, accusing him of encouraging a violent Palestinian uprising at the time.
"Israel did not have any hand in this," Weisglass told Israel's Army Radio station on Wednesday, even while calling Arafat "one of Israel's worst enemies."
"We did not physically hurt him when Arafat was in his prime ... so all the more so we had no interest in this kind of activity when he was politically sidelined," he said.
Weisglass said that he and another Israeli official were dining in Brussels with the EU's foreign policy chief at the time, Javier Solana, when the diplomat's cell phone rang call close to midnight: Then-Palestinian Prime Minister Ahmed Qureia was on the line saying that Arafat needed immediate medical attention at a Ramallah hospital. Would Israel allow him to leave his compound?
Weisglass said he called Sharon at his home and he immediately approved the request.
The next morning, Weisglass said, the European diplomat called him to say Palestinian doctors in Ramallah said Arafat was very ill and needed to be evacuated for better treatment in Europe.
Weisglass said Sharon consulted with intelligence officials, who believed Arafat was merely suffering from complications related to the flu. But a Palestinian informant close to Arafat's doctors in Ramallah said Arafat had only days to live.
Sharon immediately permitted Arafat to seek medical treatment in France so Israel could not be accused of exacerbating his illness, Weisglass said.
Arafat, 75, died about two weeks later on Nov. 11, 2004, in a French military hospital outside Paris of what doctors called a massive stroke.
According to French medical records, he had suffered inflammation, jaundice and a blood condition known as disseminated intravascular coagulation, or DIC.
But the records were inconclusive about what brought about the DIC, which has numerous causes including infections, colitis and liver disease.
The uncertainty sparked speculation about the cause of death, including the possibility of AIDS or poisoning. Many in the Arab world believe he was killed by Israel.
Raanan Gissin, a close confidant to Ariel Sharon, said as the second Intifada raged on, Israeli officials repeatedly raised the option of assassinating Arafat, but Sharon always rejected that route.
"The idea was not to kill Arafat, but to change the Palestinian leadership," Gissin told The Associated Press.
Israel "never touched a hair on his head," he added.
Weisglass said medical assessments immediately after his death found no traces of poison on his body.
Arafat's widow, Suha, filed a legal complaint in France --where she is a citizen -- after a Swiss institute detected traces of a rare, lethal substance on objects belonging to the Palestinian leader. Arab satellite TV station Al-Jazeera approached the Swiss lab on behalf of Mrs. Arafat, who provided the lab with her husband's clothing and other belongings.
On Tuesday, Mrs. Arafat's French lawyer said that French authorities have agreed to launch a murder investigation into Arafat's death.
Arafat's successor, Palestinian President Mahmoud Abbas, has given the green light for the Swiss experts to exhume Arafat's remains and conduct an autopsy. Officials say they are still waiting for Mrs. Arafat to give the final go-ahead.
"Until now, they did not tell us when they are coming, but we are ready to help them and to insure full cooperation," said Tawfik Tirawi, the Palestinian official in charge of investigating Arafat's death. "Our work and theirs will continue until we reach the truth."
Israeli Vice Premier Moshe Yaalon, who was the army's chief of staff when Arafat died, also denied involvement Wednesday in an Army Radio interview.
"It sounds to me like Arabian tales from One Thousand and One Nights," Yaalon said.