Former Guatemalan soldier wanted for civil war massacre deported from U.S.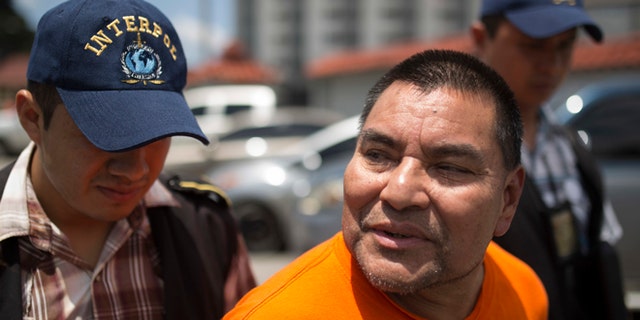 A former Guatemalan soldier accused of helping massacre more than 200 people in the 1980s and arrested in the U.S. in 2010 on immigration charges landed on Guatemala City Wednesday on a charter flight for American deportees
Santos López Alonzo, 64, allegedly served with an elite unit of the Guatemalan army and is among four former soldiers accused in the massacre who were arrested after heading to the United States.
Soon after Santos López Alonzo he landed in Guatemala City, advocates for victims' relatives said they hoped he'd be held accountable for the onslaught that wiped out the small village of Las Dos Erres in 1982.
"We are very happy they deported him and that he must now face Guatemalan justice, above all, for the victims, who have always demanded justice," said Francisco Vivar, an advocate for victims.
In an interview last week at a California immigration detention facility, López said he guarded women and children during the massacre but killed no one.
He told the Associated Press that he didn't fear Guatemala's investigation of the killings, but was afraid he would be tortured in his country as payback for assisting the U.S. government with its prosecution of one of his ex-comrades. He fought his deportation but a federal appeals court last month refused to block his return to Guatemala.
The massacre took place at the height of Guatemala's more than three-decade civil war, which claimed at least 200,000 lives before ending in 1996. The U.S.-backed army was responsible for most of the deaths, according to findings of an independent truth commission set up to investigate the bloodshed.
An elite group of soldiers was sent to search for missing weapons in Las Dos Erres in December 1982 but rounded up innocent men, women and children, raping girls and bludgeoning the villagers with a sledgehammer before throwing their bodies into a well.
López said he was a baker in the army and assigned to stand guard while others carried out the massacre. Soldiers escorted people out and returned empty-handed, he said, telling him only then that the villagers were being killed.
"He who owes nothing, fears nothing," he said of the massacre. "If I had done something, if I had killed, I would be afraid, but I feel clean."
More than a decade later, Guatemala's government opened an investigation and unearthed 162 skeletons at the well. Police said Wednesday that the onslaught left more than 200 people dead.
Authorities issued arrest warrants for 17 soldiers, including López, but the cases languished for years.
In 2009, the Inter-American Court of Human Rights demanded Guatemala prosecute the perpetrators. The U.S. began arresting the former soldiers, including López, the following year.
López was charged in Texas with illegally re-entering the U.S. after a 1999 deportation order. But he was not immediately sent back because he was held as a material witness in the prosecution of another former soldier who lied about the massacre on his U.S. naturalization forms.
Afterward, López tried to fend off deportation, but the Justice Department argued that López prevented villagers from escaping the massacre. While Guatemalan prison conditions can be harsh, department lawyers wrote that López didn't prove he would be tortured by officials if he returned home.
His lawyer, Sarah Vanessa Pérez, said López is vulnerable because he helped the U.S. government as a witness. But the 9th U.S. Circuit Court of Appeals refused last month to prevent his deportation.
"The United States is not going to serve as a safe haven for individuals who have committed atrocities overseas," said Jennifer Elzea, a spokeswoman for U.S. Immigration and Customs Enforcement. "They may live quiet lives, but they must be held accountable for the activities in which they participated."
López also acknowledged taking a 5-year-old boy from the village, claiming he saved him and raised him as a son.
Ramiro Osorio Cristales grew up to become a key voice for victims. He received asylum in Canada, testified against some of the soldiers about his memories of the killings and cut ties with López, who Osorio says mistreated him for years.
Efforts to reach Osorio, who previously testified in Guatemala about the abuse allegations, were unsuccessful. López denied mistreating him.
Guatemalan court findings against other former soldiers put López at the massacre but include few details of his involvement beyond taking the boy.
López said he knows the killings were wrong but could not denounce them at the time. Back then, he said the Guatemalan government had complete control.
"Orders are orders, given by the government," he said. "For speaking up, they would have killed me, too."
Based on reporting by The Associated Press.
Like us on Facebook
Follow us on Twitter & Instagram