Former Football Star Aaron Hernandez Charged With Murder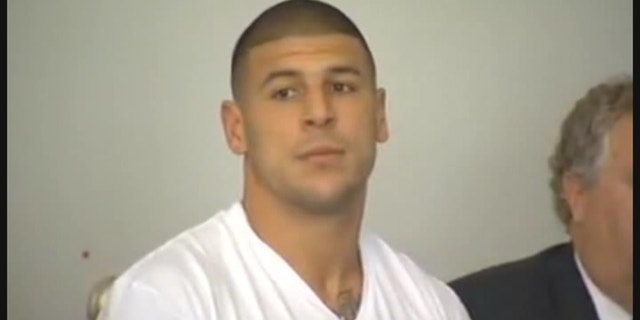 Police have charged New England Patriots tight end Aaron Hernandez with murder and several firearm charges in connection with the slaying of a semi-pro football player whose body was found in an industrial park near Hernandez's home.
The charges were announced Wednesday in Attleboro District Court, hours after Hernandez was arrested at his sprawling North Attleboro home. Less than two hours after his arrest, the Patriots cut Hernandez from the team.
Aaron Hernandez will be held without bail. Both prosecutors and defense have requested a gag order in the case.
"We want to try this case inside the courtroom not out in the media," the prosecutor said.
The investigation started more than a week ago after semi-pro football player Odin Lloyd was found slain in an industrial park in North Attleboro, on the Rhode Island border not far from where the Patriots play, Foxboro Stadium.
Lloyd's family said he and Hernandez were friends and that Lloyd's girlfriend and Hernandez's fiancee are sisters.
On Tuesday, a law enforcement source told the Fox News affiliate station in Boston that investigators believe Lloyd was shot multiple times in the early-morning hours of June 17 in the area where his body was found.
A source told the affiliate that surveillance video showed Hernandez walking into his home with two others around 3:30 a.m. on June 17. Neighbors told police they heard what sounded like gunshots shortly before they arrived home.
Another source said Hernandez was seen with Lloyd within a day of his body being discovered. At some point in the days before Lloyd's death, police believe he was in a vehicle driven by Hernandez.
On Tuesday, a spokesperson for Ropes & Gray law firm had confirmed that well-known criminal attorney Jamie Sultan, of Rankin & Sultan, was acting as Hernandez's co-counsel.
Sultan visited Hernandez's home Tuesday afternoon. Attorney Michael K. Fee, of Ropes & Gray LLP, has represented Hernandez since investigators began probing Lloyd's death.
In his online biography, Sultan says he "has more than 30 years of experience fighting for clients facing serious criminal charges in both state and federal courts."
Hernandez, who played three seasons in New England, was an All-American at Florida. But heading into the NFL draft at least one team said it took him off its draft board — refusing to select him under any circumstances — and all of the other teams in the league bypassed him repeatedly as he fell to New England in the fourth round.
In 38 games over his three NFL seasons, the 6-foot-1, 245-pound Hernandez has 175 receptions for 1,956 yards and 18 touchdowns. Last summer, he was given a five-year contract worth $41 million just months after the team locked up Rob Gronkowski through 2019.
Read more: myfoxboston.com
With reporting by The Associated Press.
Follow us on twitter.com/foxnewslatino
Like us at facebook.com/foxnewslatino