Former European Central Bank Leader Papademos Joins Greek Talks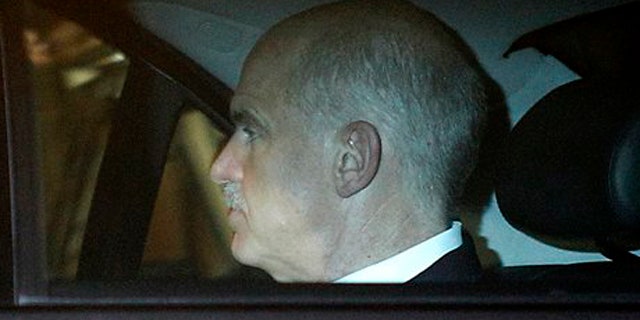 NEWYou can now listen to Fox News articles!
ATHENS, Greece – Former European Central Bank Vice President Lucas Papademos has joined Greek political leaders at powersharing talks to form a new government.
Papademos is considered the front-runner to lead a new 15-week coalition government, tasked to secure continued bailout funding and a neweuro130 billion rescue package for Greece from eurozone partners and the International Monetary Fund.
Papademos joined the talks Thursday, two hours after the meeting started between Prime Minister George Papandreou and opposition leader Antonis Samaras. Papandreou has promised to quit when the coalition deal is reached.
The hope is that the fourth day of talks will finally yield a new prime minister to head an interim government that will secure the country's continued bailout funding.
Outgoing Prime Minister George Papandreou, the head of the opposition conservatives, Antonis Samaras, and the leader of a small right-wing party were meeting with the country's president Thursday morning, a day after talks disintegrated into chaos.
European leaders have been pressing for a quick resolution to the Greek political turmoil, which has left the country facing default within weeks.
The interim government will aim to safeguard a new European debt deal and ensure Greece receives the vital next euro8 billion ($10.9 billion) installment of its existing euro110 billion facility, without which the country faces a catastrophic default within weeks.
Despite three days of wrangling and intense European pressure, Greece's main parties have been unable to agree on who will lead the new government, which is expected to only be in power for a few months before leading the country to early elections in February.
Greece's deliberations over the past few days have taken a backseat to developments in Italy where Premier Silvio Berlusconi has announced his intention to resign soon after a new package of economic reforms are passed. But his announcement has done to little to assuage market concerns that Italy is facing a Greek-style economic crisis and the country's borrowing costs have shot through the roof.
The latest setback in nearly two weeks of political turmoil came Wednesday night, just after Papandreou told the nation that Greece's political parties were joining together to save the country from rapidly approaching bankruptcy.
In what was essentially a farewell televised speech to the nation, Papandreou wished his successor well -- although he did not name him. He then headed to a meeting at the presidential mansion in Athens with the head of the main opposition conservatives, Antonis Samaras, and the leader of a small right-wing party, where he was expected to formally resign and the new prime minister be named.
But the meeting had barely started when Giorgos Karatzaferis, the right-wing party leader, stormed out in a rage and the negotiations collapsed.
An announcement on who will lead the country for the next few months is expected again Thursday, although it was unclear whether the parties had hammered out their disagreements overnight.
Despite numerous names being leaked to the press over the past three days of talks as prospective candidates, none have been announced officially.
Former European Central Bank vice president Lucas Papademos had been widely tipped as the strongest candidate. But two officials from the main parties said that by Wednesday afternoon another strong candidate had emerged -- current Parliament speaker and former justice and public order minister, Philippos Petsalnikos.
The crisis erupted last week, when Papandreou said he would put a hard-fought euro130 billion ($177 billion) European debt deal, that involves private bondholders cancelling 50 percent of their Greek debt holdings, to a referendum. The surprising decision horrifying European leaders, sparked a rebellion in his own party and battered financial markets.
But after the vicious reaction his plan was met with -- and an opposition party pledge to support the deal -- he withdrew the referendum plan and agreed to stand aside, half way through his four-year term.
After a historic deal with Samaras Sunday night to form the transition government, negotiations dragged on, missing self-imposed deadline after deadline.