Former CEO Brooks Questions Police About Her Arrest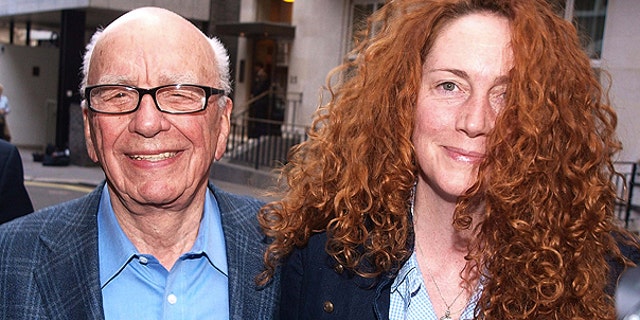 LONDON — Rupert Murdoch's former British chief, Rebekah Brooks, says police have questions to answer about why she was arrested on suspicion of phone hacking and bribery.
Brooks' spokesman, David Wilson, told The Associated Press her lawyer will make a statement soon outlining her concerns about how she was detained.
Brooks was held and questioned for 12 hours Sunday before being released on bail.
British Prime Minister David Cameron on Monday called for an emergency session of parliament to brief lawmakers on a spreading phone hacking scandal, trying to gain control of a crisis that is threatening Rupert Murdoch's media empire, the upper echelons of London's police force and the country's leader himself.
Parliament is due to break up for the summer on Tuesday after lawmakers grill Murdoch, his son James and Brooks about the scandal, but Cameron said "it may well be right to have Parliament meet on Wednesday so I can make a further statement."
Cameron was speaking in Pretoria, South Africa, on the first day of a two-day visit to the continent. He had planned a longer trip, but cut it short as his government faces increasing questions about its relationship with the Murdoch empire and a scandal has taken down some of Britain's most powerful with breathless speed.
In the latest twist in the legal saga, Britain's Serious Fraud Office, Britain's anti-fraud agency, said Monday it was giving "full consideration" to a request from a lawmaker that it open an investigation into Murdoch's News Corp.
The office said any possible probe would be limited to News Corp. activities in Britain, but it added that it is ready to assist authorities in the U.S., where the FBI has already opened an inquiry into whether 9/11 victims or their families were also hacking targets of News Corp. journalists.
Cameron insisted his government had "taken very decisive action" by setting up a judge-led inquiry into wrongdoing at the newspaper and relations between politicians, the media and police.
"We have helped to ensure a large and properly resourced police investigation that can get to the bottom of what happened, and wrongdoing, and we have pretty much demonstrated complete transparency in terms of media contact," Cameron said.
But he is under pressure after the resignation of London police chief Paul Stephenson and the arrest Sunday of Murdoch's former British CEO — and Cameron's friend — Brooks on suspicion of hacking.
Stephenson resigned Sunday over his ties to a former News of the World executive editor who has been arrested over the scandal. In his resignation speech Stephenson made pointed reference to Cameron's hiring of Andy Coulson, a former editor of the shuttered tabloid who was arrested earlier this month over hacking.
Cameron said the situations of the government and the police were "completely different," because allegations of police corruption "have had a direct bearing on public confidence into the police inquiry into the News of the World and indeed into the police themselves."
Other senior police officers are under fire, including Assistant Commissioner John Yates.
Brooks' arrest was the latest blow for Murdoch, the once all-powerful figure courted by British politicians of all stripes. Now Murdoch is struggling to tame a scandal that has already destroyed News of the World, cost the jobs of Brooks and Wall Street Journal publisher Les Hinton and sunk the media baron's dream of taking full control of a lucrative satellite broadcaster, British Sky Broadcasting.
Fox News and FoxNews.com are owned by News Corp.