For the first time, Egypt calls Sinai jet crash an act of 'terrorism'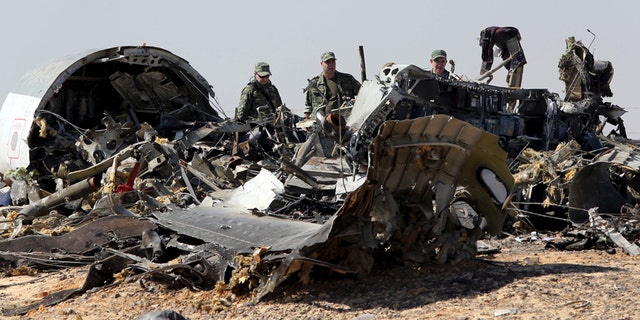 NEWYou can now listen to Fox News articles!
Egypt's president admitted for the first time Thursday that the crash of a Russian passenger plane in the volatile Sinai Peninsula last October was an act of "terrorism."
Abdel-Fattah el-Sissi said the attack was intended to damage Egypt's tourism industry and relations with Russia, according to the BBC.
Russia previously has said the attack was caused by a bomb – while Egypt had taken an opposite stance. In November, el-Sissi dismissed a claim by jihadists that they brought the plane down as "propaganda."
"Whoever downed that plane, what did he want? Just to hit tourism? No. To hit relations. To hit relations with Russia," el-Sissi said Thursday.
The Airbus 321, operated by the Russian airline Metrojet, broke up in the sky on October 31. The plane was heading back to St. Petersburg with tourists returning from the Red Sea resort city of Sharm el-Sheikh.
Egypt has hired a UK-based consultancy to tighten security at airports in the wake of the attack, the BBC reports.