Following army raid, Colombia's FARC rebels cancel unilateral cease-fire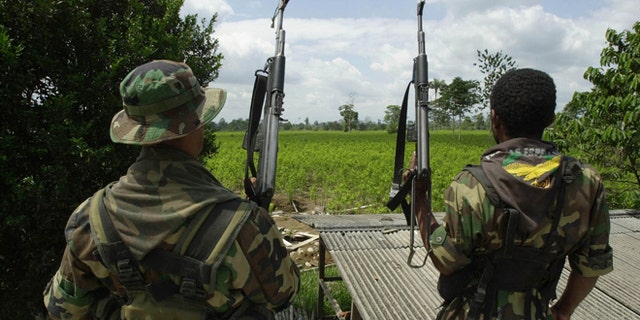 NEWYou can now listen to Fox News articles!
Bogotá, Colombia (AP) – Colombia's largest rebel group on Friday called off a unilateral cease-fire in reaction to a military raid on a guerrilla camp that killed 26 of its fighters, further straining negotiations to end the country's half-century-old conflict.
The Revolutionary Armed Forces of Colombia said in a statement Friday that it felt obliged to end the five-month-old truce aimed at facilitating the peace talks because of the constant pursuit of its fighters by the military.
The Thursday attack on the guerrilla camp in Cauca province, which President Juan Manuel Santos called a major blow against the FARC, appears to have been in retaliation for the rebels' own stealth raid last month, also in Cauca, on an army patrol. Ten soldiers were killed in that attack, which led Santos to scrap his own confidence-building gesture: a ban on launching air raids against guerrilla camps.
The FARC commander known by his alias Pastor Alape, one of the group's chief envoys to peace talks taking place in Cuba, denounced the attack on Twitter as a "treacherous and degrading act" carried out in the dead of night
Meanwhile Santos urged the FARC to accelerate negotiations if it wants to prevent further bloodshed. Speaking alongside the visiting Chinese Premier Li Keqiang, he said the armed forces are ready to combat any new FARC offensive.
"From the day the conversation in Havana started I've been clear," Santos, a former defense minister, said in televised remarks earlier Friday. "Operations by our armed forces against the insurgents will not be detained, they won't be detained. Nobody should fool themselves."
Santos said that the army seized a stockpile of weapons during the raid, including 37 assault rifles and a M60 machine gun. The rebels apparently belonged to the same commando unit that in November raided a police post on Gorgona Island, a destination frequented by European adventure tourists.
While the FARC negotiators' declaration of a unilateral truce in December pleasantly surprised many Colombians, it was never fully honored by the estimated 7,000 fighters on the battlefield, many of whom are isolated and on the ropes after more than a decade-long, U.S.-backed offensive.
But the FARC's cease-fire, which was always contingent on its troops not being attacked, was viewed by many as a sign that a deal was close and the conflict winding down.
The FARC said that to provide more oxygen for talks it is imperative that a bilateral cease-fire be declared as soon as possible. That is an option Santos has rejected outright up to now, leading many Colombians to question how progress toward a deal can be sustained. In two years of talks, both sides have already reached preliminary agreements on three areas — political participation for ex-rebels, agricultural reform and ways to combat drug-trafficking — as well as a deal to jointly remove land mines.
"You can't discuss peace in Havana while in Colombia making war," said Carlos Lozano, editor of a Communist Party-run newspaper and sometime mediator between the rebels and the government. "That's what is generating instability in this process."