Flood of Aid Reaches China's Remote Quake Zone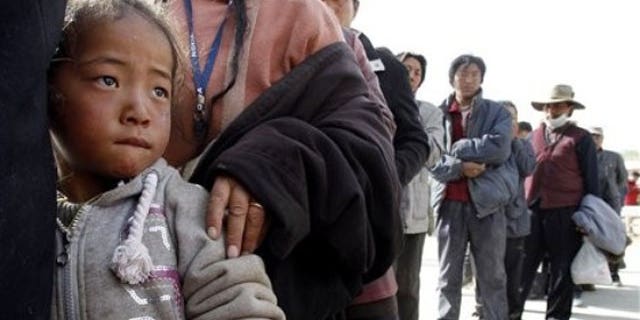 JIEGU, China -- China said Sunday that a flood of badly needed aid had finally reached this quake-shattered town, including enough food and shelter for tens of thousands of suddenly homeless, though some complained chaotic distribution meant it wasn't reaching everyone in need.
The surge in aid coincided with the arrival of Chinese President Hu Jintao, who cut short an official trip to South America to deal with the disaster in this remote Tibetan region where residents have frequently chafed under Chinese rule. The quake Wednesday killed 1,706 people and injured 12,128.
The president's carefully scripted trip included visits with displaced families living in tents and rescue teams as they dug through debris looking for the 256 still missing. He promised that the Communist Party and the government was doing everything they could to help the mostly Tibetan quake victims. Tibetan anger over political and religious restrictions and perceived economic exploitation by the majority Han Chinese have sometimes erupted in violence.
China Central Television showed Hu sitting with a Tibetan middle school student at a field hospital and comforting her as she wept. Her right arm was bandaged and supported by a sling.
"Rest assured, you will have a full recovery," he told the girl. "You will have a bright future. Grandpa will be thinking of you."
Hu and Chinese Premier Wen Jiabao, who visited Jiegu on Thursday, have both cultivated compassionate, grandfatherly images in a bid to portray the leadership as putting people first.
Hu was the party boss of Tibet, which neighbors Qinghai province where the earthquake struck, from 1988 to 1992 and has a mixed reputation among ethnic Tibetans. A hardline governor, he oversaw the imposition of martial law in Tibet in 1989 after anti-government violence erupted there. As the country's top leader, he has maintained a firm line on dissent while also championing policies that have funneled billions of dollars in aid and investment to Tibetan areas.
On Sunday, after days of sleeping in makeshift shelters, with ice forming on blankets during the frigid nights, nearly all survivors finally had proper tents and enough food and clean water to last at least a few days.
The sudden bounty appeared to come in the nick of time. Relief workers had warned that Jiegu was teetering on the edge of unrest, with people fighting over tents and other limited goods. Bottlenecks on the winding mountain road that links Jiegu to the provincial capital of Xining -- normally a 12-hour drive -- were blamed for the earlier trickle of supplies.
Zou Ming, head of disaster relief at the Ministry of Civil Affairs, told a news conference in Beijing that most survivors now had tents, basic food and clean water.
Government-issued blue tents that were sparsely dotted around town in recent days popped up in abundance on Sunday. Some families set them up next to the ruins of their flattened mud brick homes. Others pitched theirs on a horse racing track turned refugee camp, the largest of several tent cities in Jiegu.
In one corner of the track was Genyao, 65, and his more than 20 family members. He pushed back the flap of one of their four tents to reveal two dozen cases of water, instant noodles and canned meat. Nearby, two blackened pots bubbled on top of a stove made from concrete blocks.
"It's manageable. The country cares about us," said Genyao, who goes by one name, a smile creasing his weather-beaten face. But, he pointed out, "The pots, the blankets, those we pulled out of the rubble of our house ourselves."
China Central Television showed Hu visiting a similar scene, the camera panning over stacks of food boxes and a crate of water in the corner.
"I guarantee the party and the government will help you build a new home and make sure your children can return to school as soon as possible," Hu said to a Tibetan man who grasped the president's hand and bowed his head repeatedly, saying "Thank you, thank you."
A few remained left out. A 43-year-old Tibetan man who refused to give his name said he and 15 other relatives were still living under tarps strung between wooden beams. He said others were stockpiling tents to sell and intimidating people like him who lined up to get them for free. He said his neighbor ended up paying 600 yuan ($90) for one.
"We're locals and we can't even get a tent," he said. "It's people from out of town who are taking tents."
To prevent such stockpiling and other problems, authorities Sunday were delivering aid to sites run by a specific county or town in the region, and residents originally from those places could register and get supplies there.
The system meant however that some people, particularly migrants, had no fixed aid station to go to.
Liu Shuzhen, a construction worker from neighboring Gansu province, was among those falling through the cracks. Liu, her husband and their four-year-old son were sleeping on plastic sheeting with a few tattered blankets pulled from the rubble.
She crouched in the blowing dust at the racetrack, guarding a battered box with a few bread rolls and bottles of water that Tibetan Buddhist monks had thrown down from a passing truck.
"When President Hu comes, maybe they'll hand out relief supplies and we could get some," Liu, 29, said hopefully, her right eye black from when the family's one-room home collapsed as they slept. But Hu's expected visit to the racetrack didn't happen and the family was preparing to sleep another night in the cold.