Five members of one family dead in Arizona murder suicide, police say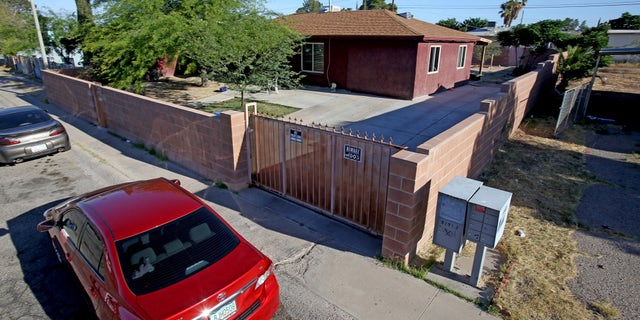 TUCSON, Ariz. (AP) – Five people killed in a murder-suicide in a Tucson home were all members of the same family, police said Wednesday.
Police said 25-year-old Christopher Carrillo killed his family before turning the gun on himself.
The others killed were 58-year-old Raul Carillo, 53-year-old Karen Saari, 32-year-old Erik Carrillo and 17-year-old Isela Rodriguez.
The bodies were found Tuesday evening by a man who went to the single-story house, police say.
Police did not know what lead to the shooting and an investigation is ongoing.
Details were sparse, but all of the dead had signs of gunshot trauma, police Sgt. Pete Dugan said.
Authorities weren't actively searching for suspects because they believe it was a murder-suicide, he said.
"They are trying to figure what took place," he said.
The shootings occurred in a blue-collar neighborhood on the south side of Tucson that residents said has seen an uptick in drug dealing recently.
The home had a no-trespassing sign on the door, and two tricycles and a small basketball court in front. An abandoned home stood on one side of the residence.
Neighbor Araceli Zatarain said a family of four has lived in the home for more than 20 years. Police officers arrived at the home with guns drawn and demanded that Christopher Carrillo come out, she said.
Police later went inside and found the bodies.
Zatarain said she was not close with the family but always said hi to them. The patriarch, Raul Carillo, spent a lot of time outside walking and sweeping the floor, said Zatarain's daughter, Carol Ibarra.
Ibarra says she didn't see Raul Carrillo outside at all on Tuesday but also didn't hear any strange noises or gunshots.
Lupita Garcia, the grandmother of Isela Rodriguez's boyfriend, said she was stunned and saddened. Rodriguez, who went by the name "Chela," lived with Garcia and was visiting her grandparents.
Garcia said her grandson became worried after Rodriguez stopped responding to his calls. He ran frantically for nearly a mile but found police tape around the house when he arrived, Garcia said. She said the grandson was so devastated that he was hospitalized and later released.
Garcia said her grandson had been dating Rodriguez for several years. She described her as a good young lady who was kind and pleasant.
"I've never had a pain like this," Garcia said.
Like us on Facebook
Follow us on Twitter & Instagram