Fire engulfs high-rise building in Russia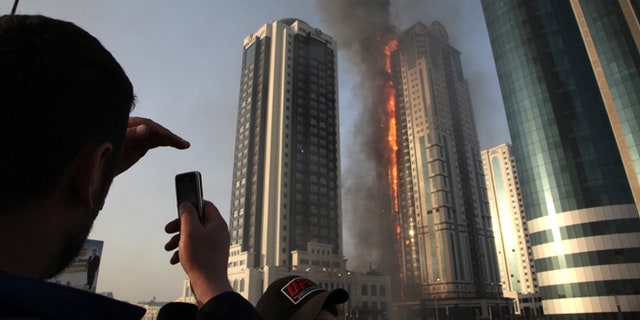 NEWYou can now listen to Fox News articles!
GROZNY, Russia – Fire has engulfed an unoccupied 40-story apartment building under construction in Chechnya, a once war-torn republic in southern Russia.
Emergency officials say 30 people were evacuated Wednesday but that no one was injured. The cause of the fire has not yet been determined.
The building is part of a complex of high-rises under construction in the center of Grozny, the Chechen capital.
One of the apartments in a neighboring 27-story building belongs to French actor Gerard Depardieu, who was presented with the keys when he visited Grozny in February.
Depardieu visited shortly after receiving Russian citizenship and was welcomed by Chechnya's strongman leader, Ramzan Kadyrov.
With lavish funding from Moscow, Kadyrov has been rebuilding Grozny, which was reduced to rubble during Chechnya's two separatist wars against Russia in the 1990s.