Feds: N.C. Sheriff Deputies Shared Links To Bloody Border Crossers Game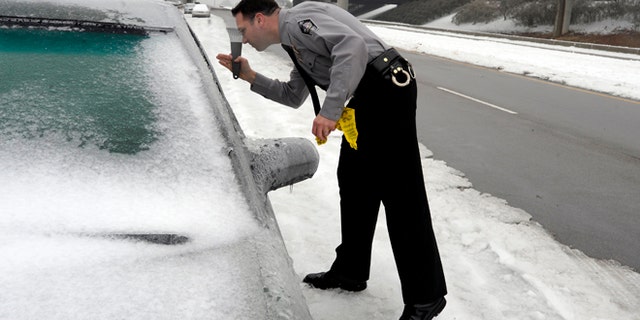 RALEIGH, N.C. (AP) – Federal prosecutors say deputies of a North Carolina sheriff accused of illegally targeting Latino drivers shared links to a bloody video game in which players shoot people entering the country illegally, including children and pregnant women.
Lawyers for the U.S. Justice Department filed documents this week in their complaint against Alamance County Sheriff Terry S. Johnson, who is accused of violating the rights of citizens and legal residents by detaining and arresting Latinos without probable cause. Prosecutors are asking a federal judge to find in their favor without a trial, citing extensive evidence of racial bias.
Johnson's lawyer said in an email that the sheriff denies the allegations. His lawyers filed their own motion Sunday seeking to have the case dismissed.
"Sheriff Johnson and his office have not engaged in a pattern or practice of intentionally treating Latinos differently due to their ethnicity," Chuck Kitchen wrote in the motion.
According to the government's motion, a high-ranking deputy emailed out the link to the violent game.
"Captain Mario Wiley emailed several other ACSO employees a link to a game premised on shooting stereotypical Mexican figures, including pregnant women and children, as they attempt to cross the U.S. border," the motion says. "Blood splatters on the screen as the figures are shot, and the final screen of the game shows how many 'wetbacks' one has killed."
Other deputies, including supervisors and the agency's designated media spokesman, traded messages that included racist jokes.
"Sergeant Darryl Myers and Lieutenant Wesley Anderson each forwarded an email joking that when Davey Crockett saw 'hordes of Mexicans' approaching the Alamo, he asked 'are we having landscaping done today?'" according to the court filing.
In another email, training officer Richard Longamore forwarded an email to the sheriff and his chief deputy bemoaning a federal program that provides temporary visas to foreign nationals who are the victims of such violent crimes as rape, incest and torture.
According to federal officials, Johnson himself referred to Latinos as "taco eaters" prone to drinking, drug dealing and other crimes. He ordered special roadblocks in neighborhoods where Latinos live, during which those with brown skin were stopped while whites were waved through.
His deputies, in turn, were as much as 10 times more likely to stop Latino drivers than non-Latinos, according the federal review of the department's traffic stop records. Hispanics make up 11 percent of the population in Alamance County, which is about an hour's drive northwest of Raleigh.
In a sworn deposition, former deputy Adam Nicholson recounted the sheriff using racist slurs as he directed officers to arrest Latinos during a raid on a trailer park.
In his motion to dismiss the case, the sheriff's attorney says that both the sheriff and his chief deputy have testified that they never heard the term "wetback" or "spic" used and that they would have disciplined anyone who used those terms. The sheriff's motion also disputes that there is any evidence that Latino drivers are stopped at a greater rate than non-Latinos in the county. It says the sheriff commissioned a study by a Duke University professor that determined that there was no evidence that racial profiling was happening.
The Civil Rights Act of 1964 and other federal laws bar police from engaging in a pattern of violating the constitutional protections of U.S. citizens or legal residents. In the complaint, federal authorities ask the court to impose sanctions intended to force Johnson's compliance with federal law.
The civil complaint does not charge Johnson with a crime, and the federal court has no mechanism to remove a local elected official from office.
Johnson is currently seeking election to another four-year term in November.
Raul Pinto, a staff attorney for the American Civil Liberties Union of North Carolina, urged Johnson to settle the federal suit and embrace the recommended sanctions.
"The abhorrent and unconstitutional practices outlined in this motion should not be tolerated in our state and cannot be allowed to continue," Pinto said. "All residents of Alamance County deserve fair and equal treatment from their law enforcement officers."
Follow us on twitter.com/foxnewslatino
Like us at facebook.com/foxnewslatino