Famous one-eyed matador scalped by bull in gory video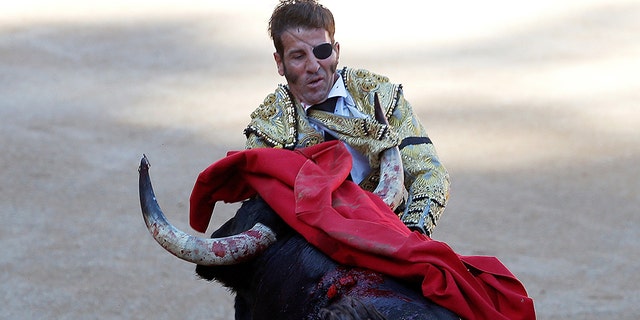 WARNING: GRAPHIC CONTENT BELOW
A famous one-eyed Spanish matador -- who was previously gored at least twice -- suffered another horrific injury over the weekend when a bull mauled and scalped him in front of a stunned crowd.
Juan Jose Padilla, 45, was in the bullfighting ring in the Spanish city of Arevalo when the bull came charging toward him. Padilla, known to fans as "The Pirate," fell during his escape, leading to the bull trampling and mauling him.
Several people rushed to help him. Padilla got up with a piece of his scalp dangling from the right side of his head.
The matador underwent emergency surgery and had the portion of the scalp successfully reattached.
"I'm very well, and want to assure everyone that my condition after the incident is good," Padilla told the Spanish paper Aplausos after the procedure.
The daring bullfighter said he plans to return to the arena after he recovers — which isn't surprising considering his past. Padilla is one of Spain's most famous matadors and he has been rewarded and praised for his bullfighting skills.
The years of bullfighting, however, have taken a toll on his body. Padilla has suffered 38 injuries prior to Sunday's scalping, RT reported. He nearly lost his life in 2001 when a bull pierced him in the throat. Then in 2011, his eye was removed when a bull gored him.
He also lost his hearing in his right ear, suffered a broken jaw and skull in the 2011 incident.
Last year, Padilla was gored in the thigh and chest and suffered a punctured lung.