Family of Mexican man killed by police in Washington state request second autopsy, protestors block traffic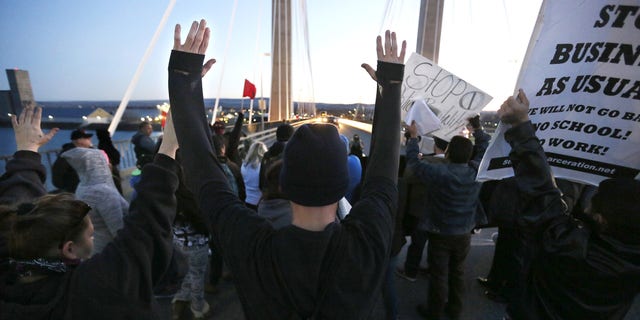 NEWYou can now listen to Fox News articles!
The family of a man fatally shot by police is requesting a second independent autopsy, a prosecutor in Pasco, Washington said, while protesters, who continue to demonstrate against police brutally, shut down traffic on a bridge over the Columbia River.
Franklin County Prosecutor Shawn Sant said that his office is ready to release the body of Antonio Zambrano-Montes and welcomes the family's request, the Tri-City Herald reported.
A forensic pathologist performed an autopsy following the Feb. 10 shooting, but details have not been disclosed.
On Saturday, protests continued when more than 50 people blocked traffic along the cable bridge over the Columbia River as they slowly marched from Pasco toward Kennewick. Many motorists yelled and honked in support, the Herald reported.
The marchers shouted "We will not be silenced" and "We are all Antonio," referring to Zambrano-Montes.
The Herald said that there were no arrests reported and police had little contact with protesters, according to authorities. Pasco police officials decided not to have patrol officers intervene when protesters marched across the bridge.
The killing of Zambrano-Montes — captured on cellphone video by an onlooker — has sparked calls for a federal investigation. Police have said Zambrano-Montes did not have a gun or a knife.
The killing was the fourth by law enforcement officers in Pasco in less than a year. It has roiled this fast-growing agricultural city of 68,000, where more than half the residents are Hispanic but few are members of the police force or the power structure.
Zambrano-Montes' widow and two daughters have filed a $25 million claim with the city in the first step toward a lawsuit.
A special 15-member police unit is investigating the shooting. The three Pasco officers involved have been placed on leave.
Franklin County Coroner Dan Blasdel plans to conduct a special inquest.
Sant will ultimately decide whether criminal charges should be filed.
Based on reporting by The Associated Press.