Family of Kurdish female fighter seen naked, mutilated in graphic viral video speaks out
NEWYou can now listen to Fox News articles!
KOBANI, Syria – As the battle for the northwestern Syrian city of Afrin raged earlier this year, amid Turkey's eventually successful "Operation Olive Branch" to seize control from the Kurdish-led Syrian Democratic Forces (SDF), images of the bloodbath flooded social media.
But there was one especially shocking video, captured via cellphone, that ignited international outcry: a fighter with the all-female Kurdish unit known as the YPJ lay dead and half-naked in the dirt, her body mutilated with deep cuts lacerating her exposed breasts. Turkey-backed Syrian rebel fighters in military fatigues can be seen swarming the corpse, groping the pockets of her jeans.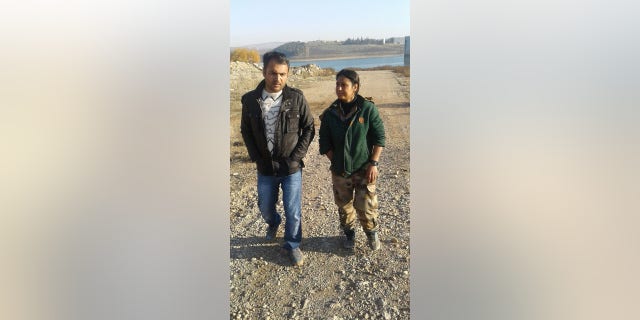 "She's beautiful, man," declares one fighter as one purports to take a selfie with the defiled body. In Arabic, others declare "God is Great," while some call the downed soldier a "female pig." One even digs his dirty boot into her chest, and another puts the muzzle of his rifle at her head.
"I was checking Facebook and I came across the video and was in shock; it was so awful that I had no words," Ahmed, 31, told Fox News. "I didn't know who the girl was... and then a commentator wrote it was Barin Kobani."
Barin Kobani, Ahmed's beloved sister.
In desperation, he called around hoping it was someone else with the same name. But within hours, SDF officials confirmed Ahmed's worst nightmare. In agony, he delivered the news to the family. They believed Barin, 27, was killed on February 3 fighting in a village outside Afrin, but the footage did not surface on the Internet until several days later.
Over the course of the next week, more videos and images emerged – showing Barin's remains in different locations and with different jubilant fighters, indicating she may have been paraded as a dead trophy through the streets.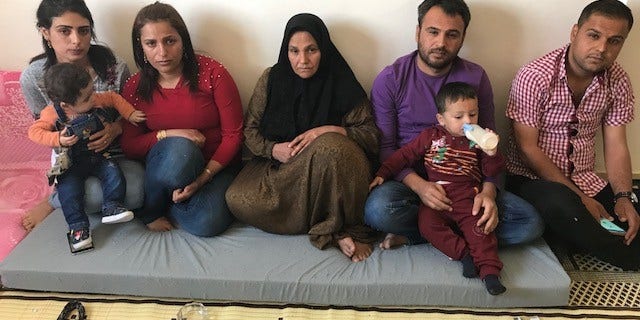 Ahmed said that his sister, whose real name was Amina Omar, joined the YPG as a fighter after the genocide and capture of thousands of Yazidi women by ISIS in neighboring Iraq's Sinjar Mountain. The family helped smugglers to rescue three sex slaves from the "caliphate capital" of Raqqa, and hosted them at their home for several weeks before they could return to Iraq.
"Barin would take girls to the markets and buy things for them and their children," her 55-year-old mother, Zahra, recalled through her soft sobs. "She was deeply affected by what had happened to them. For a long time, she wanted to fight but didn't have the confidence. What these girls had survived gave her the confidence to do more."
Barin – the middle child in a family of nine children consisting of six daughters and three sons – started out in YPJ as a "normal fighter," but made "commander" status last year and went on to lead the charge in the Raqqa liberation from ISIS, Ahmed said. She was so dedicated to her role that her family rarely were able to see her, but by chance around a year before her death saw her passing in a vehicle in the Afrin streets and flagged her down.
"We told Barin we missed her and asked her was she going to stay in this hard life forever," Ahmed recalled. "She insisted that there was no other life for her, that she was determined to be a high-level person and bring change to the rights of women."
Early in the Afrin battle, the family spotted Barin on a local news segment about the conflict and felt a mix of "sadness and excitement" – sad she was in a dangerous situation, but excited she was leading the all-female unit stationed in the area.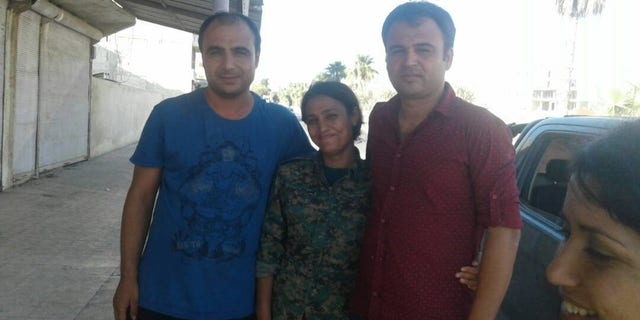 Yet her death, and its aftermath, has infuriated many SDF and women's rights supporters around the world. SDF officials called it a "bestial scene" and accused Turkey of being "the world's biggest state-sponsor of terrorism."
The video – which was first obtained by the UK-based NGO Syrian Observatory of Human Rights and made headline news worldwide – remains online, including on YouTube, where it comes with a warning that it may be "inappropriate" for some viewers and requires a sign-in to verify the viewer is 18 years or older.
"It's hard for us, but it is important this video is not taken down," Ahmed stressed. "We want people to know of these inhumane acts and why we are afraid for our future. We hoped maybe this video would bring an end to this war, but it did not."
Ahmed said he watches the video every day, sometimes dozens and dozens of times, fruitlessly hoping that somehow the ending will be different.
U.S. FORCES IN SYRIA AIM FOR LOW PROFILE, AND HIGH-POWERED RESULTS
THE LIVES OF ISIS WIVES HELD IN SYRIA: INFIGHTING, JEALOUSY - AND REGRETS
The Turkey-backed Free Syrian Army (FSA), which was the primary ground force battling the SDF in Afrin, has since stated that they would form a committee to investigate and authenticate the incident. The group also stated that they would "not hesitate" to hold the fighters shown in the footage accountable for their actions, and mandated that they endeavor to always abide by international law and tend to all deceased fighters in accordance with Sharia principles of a dignified burial.
Several FSA members, now displaced on the Turkey side of the Syrian border, also expressed outrage at the video and insisted to Fox News that this was not standard practice for most factions of the once U.S.-supported FSA and, if true, was perpetrated by a few bad actors.
The video of Barin also made Turkish state media, which had a vastly different take, referring to the slain "terrorist" as a "would-be suicide bomber."
Debate has since raged over whether Barin was mutilated after her death, or if she blew herself up before being captured. To date, her remains have not been returned to the family and they suspect they will never see that happen. Barin's remains are not recoverable, a source told Fox News.
Barin's family now receives support from the Martyrs Family Foundation, headquartered in the city of the same name. It's a quiet, ailing building where the young and old – anyone who has lost a loved one in the fighting – gather daily to drink tea and find comfort in their collective mourning.
Locals refer to the foundation's dwellings as their "holiest place" – more meaningful than any mosque or house of worship. Nearby, they have established a new post-revolution "Martyrs Graveyard" – along with a large monument dedicated to those whose bodies have not yet been recovered from the ongoing war within Syria.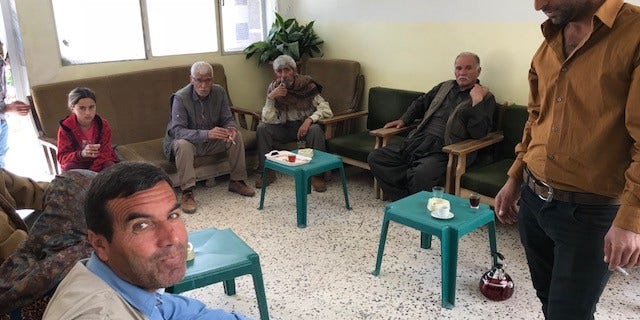 Nonetheless, the news of Barin's death and video is still being circulated weeks on, and still ignites a special breed of outrage in their community.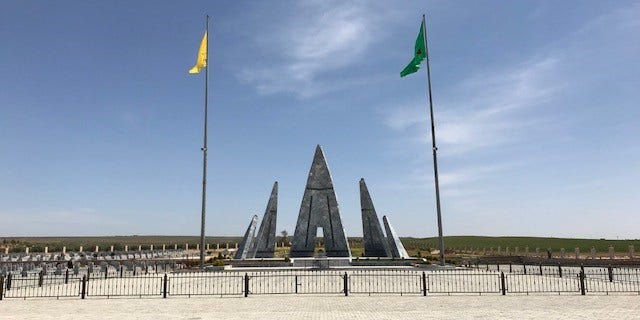 "The honor of our women is so sensitive to us," noted Khalil, a member of the foundation and the person who most often delivers the dreaded news of the dead to loved ones. "So to see this happen to Barin, her naked body like this, really hurts."