Ex-police chief who revamped Bolivia's anti-drug unit force faces probe for drug trafficking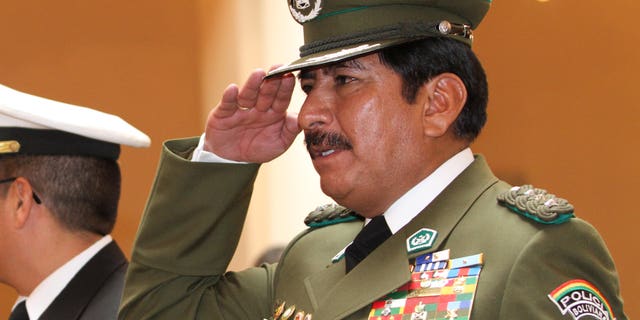 LA PAZ, Bolivia (AP) – The retired police general who reorganized Bolivia's counter-narcotics force after President Evo Morales expelled U.S. drug agents is under investigation for illicit enrichment and drug trafficking ties.
A judge was to decide Wednesday whether Gen. Oscar Nina should be jailed. Nina's wife and two children were ordered jailed late Tuesday for suspected laundering of illicit earnings.
Interior Minister Hugo Moldiz cited "serious suspicions" that Nina and his family had links to drug trafficking. Prosecutor Gomer Padilla said investigators had discovered assets unsubstantiated by income but did not disclose their nature.
Bolivia is the world's No. 3 cocaine-producing country and a major transit and processing conduit for Peruvian cocaine.
Morales claims Bolivia's counter-narcotics efforts have improved since he expelled the U.S. Drug Enforcement Administration in 2008.
The president, who rose to political prominence as head of a coca-growers' federation, named Nina anti-drug police chief in January 2009 shortly after he ordered the expulsion of all U.S. drug agents for alleged espionage and incitement of the political opposition.
Nina was given the task of reorganizing the FELCN counter-narcotics force, which prior to Morales' presidency had close ties to the DEA and received everything from boots to gasoline to airlift from the United States.
Nina was promoted to national police commander a year later. He was retired a year later, however, after another former drug czar, Gen. Rene Sanabria, was arrested in Panama on cocaine smuggling charges and extradited to the United States.
Sanabria was a top government adviser on drug trafficking at the time of his arrest. He pleaded guilty to drug trafficking in a U.S. court and is now serving a 14-year sentence.
Like us on Facebook
Follow us on Twitter & Instagram