Ex-IMF chief Strauss-Kahn to work 3 months for free in Serbia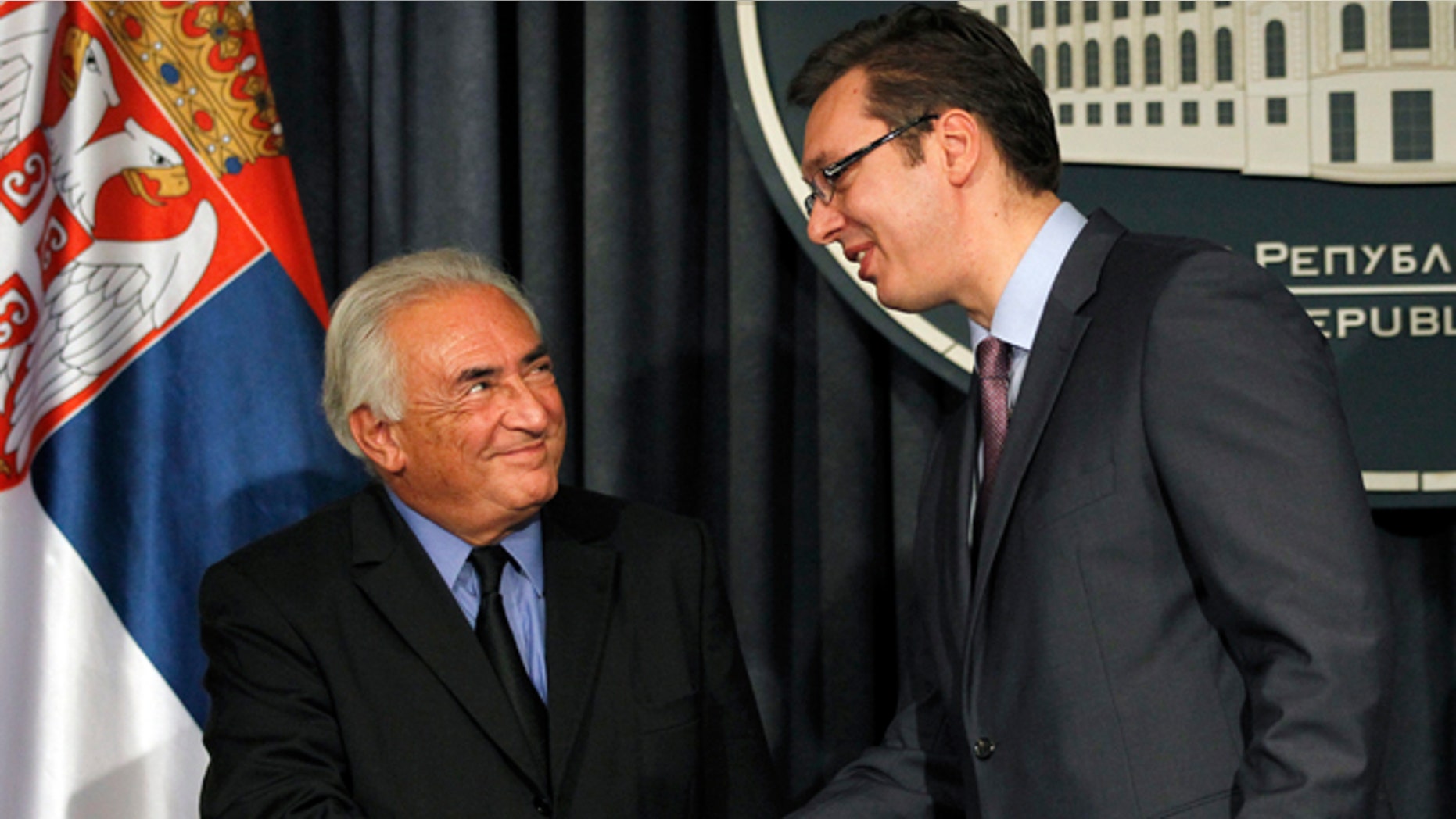 BELGRADE, Serbia – Former International Monetary Fund chief Dominique Strauss-Kahn, who faces aggravated pimping charges in France, said Tuesday he won't be paid for his first three months as an economic adviser to Serbia's government.
"We will work for three months pro bono, and then we'll see what will happen," Strauss-Kahn told a press conference in Belgrade following his arrival and after talks with officials.
He did not comment on the charges he faces back home but Serbia's deputy prime minister Aleksandar Vucic dismissed the possibility that Strauss-Kahn's "reputation" could be damaging for the country.
"No doubt Dominique Strauss-Kahn is an acknowledged expert for economy," said Vucic. "I have never heard anyone question his expertise, which is very important for our side.
"We appointed him and his team here because of our needs, we need to move forward our economy," he added.
Vucic has faced criticism from the opposition and some experts for picking Strauss-Kahn and his team to help deal with Serbia's foreign debt and other economic problems.
"I am not saying that my team and I can provide some kind of a magic stick, but I believe that we can help the government make the right decisions," Strauss-Kahn said.
Vucic said part of the advisory team will be based in Serbia, while the rest will stay in France.
The French case revolves around an alleged hotel prostitution ring and hinges on whether Strauss-Kahn knew he was partying with prostitutes and whose money was used to pay them. His lawyers have said Strauss-Kahn had attended "libertine" gatherings but did not know that some women there were paid.
No trial date has been set for Strauss-Kahn and several others in France, a country where it is not illegal to pay for sex, but it is against the law to solicit or to run a prostitution business.
The case put Strauss-Kahn, 64, back in the spotlight after his arrest in New York in May 2011, based on allegations by a Manhattan hotel maid that he had sexually assaulted her. He resigned as IMF chief before those charges were dropped.
Serbia is one of the six former Yugoslav republics which fought each other in a bloody ethnic war after the former federation broke up in 1990s'. The conflict and the international sanctions imposed on the country for its warmongering have destroyed the economy, while postwar recovery has been hampered by the global financial downturn and lack of substantial reform.