Ex-Guatemalan President Otto Pérez Molina charged in corruption scheme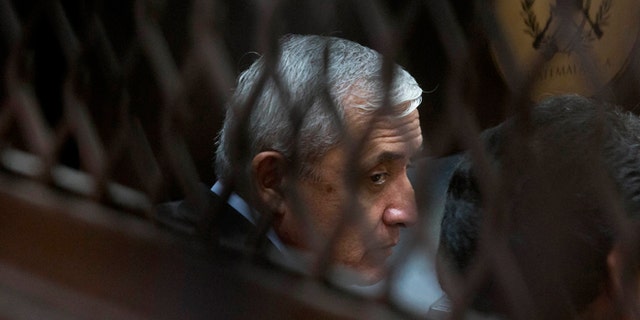 NEWYou can now listen to Fox News articles!
GUATEMALA CITY (AP) – Guatemala's former president and vice president were formally charged Thursday in a sprawling corruption scheme that allegedly emptied government coffers and laundered money to be spent on Miami shopping sprees, real estate and luxury vehicles.
Seventy people, including former President Otto Pérez Molina and his Vice President Roxana Baldetti, are accused in the arrangement involving illegal financing, embezzlement and money laundering, said Prosecutor Julio Barrios Prado.
"That money was used to buy goods and services for you and Baldetti including real estate and luxury vehicles, as well as $4.3 million in gifts," Barrios said to Pérez Molina during the hearing.
Barrios said Pérez Molina, who won the presidency in 2012, received millions of dollars in illegal financing through shell companies that made it appear legitimate. Money was shared with Baldetti and her private secretary Juan Carlos Monzon, who is now a cooperating witness for the government.
Baldetti also allegedly received $38 million in kickbacks between 2009 and 2015 for at least 70 public works contracts. Prosecutors allege she bought clothes, jewels, paid employees and traveled on the ill-gotten funds. In one trip to Miami, she allegedly spent more than $27,000 on shoes and clothing, including the brands Jimmy Choo, Hermes and Alexander McQueen.
Pérez Molina and Baldetti are already jailed pending trial for another scheme in which companies paid bribes to avoid customs duties. That case led to their resignations.
They have both denied the accusations against them.
Following Thursday's hearing, Pérez Molina said the new charges were "false" and that he would explain it all to the judge.
In reference to the accusation that they received kickbacks from public contracts, he said "I was handling daily activities; I didn't have time to follow every process."
Like us on Facebook
Follow us on Twitter & Instagram