Ex-Ecuador soccer president convicted in FIFA graft case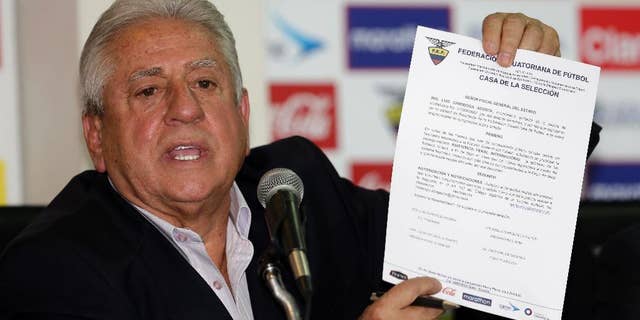 QUITO, Ecuador – The former president of the Ecuadorean Soccer Federation was convicted of money laundering Friday and given a 10-year sentence in a case tied to the corruption scandal at FIFA, the sport's international governing body.
Luis Chiriboga was convicted along with two co-defendants on allegations involving nearly $6.12 million allegedly received in 2010-2015. Hugo Mora was also sentenced to 10 years and Pedro Vera was given 40 months.
Because of his age, the 65-year-old Chiriboga would serve his time under house arrest if the sentence imposed by Judge Miriam Escobar is upheld. Lawyers for all three defendants said they would appeal the sentences.
The case arose when U.S. prosecutors charged numerous international soccer officials with taking bribes for awarding soccer tournament rights. Ecuador doesn't extradite its citizens to the U.S.