Europol: Terror Cells Actively Plotting Attacks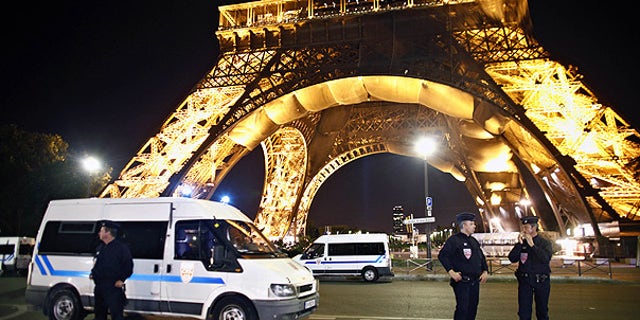 NEWYou can now listen to Fox News articles!
BRUSSELS -- Europol's director said Thursday that terror cells are still actively plotting attacks against Europe.
Robert Wainwright, director of the European police organization, said a drop in terror attacks in Europe -- coupled with intelligence that had thwarted major plots in the past -- masked the ongoing threat.
"There has been a significant decline in the number of terrorist attacks in Europe -- certainly committed by Islamist groups -- that hides the reality that these groups are still active," Wainwright told The Associated Press.
His remarks came after news of a terror threat against Britain, France and Germany. The threat was intercepted in Pakistan by U.S. intelligence officials, sparking a surge in drone missile strikes near the border with Afghanistan.
"The threat is still out there -- absolutely -- as these reports show," he said on the sidelines at a conference on emerging security threats from West Africa.
Ronald K. Noble, Interpol's Secretary General, said a rise in drug trafficking had the potential to fuel more violence and instability. As much as a quarter of all cocaine now passes through Africa from South America, he said.
"What may seem like a trickle (cocaine) is turning into a full-scale assault," Noble said. "We know that drug trafficking brings the specter of further violence."
Interpol has been key in stepping up counterterrorism efforts in Europe in recent years.
Security officials said Wednesday that a terror plot to wage Mumbai-style shooting sprees or other attacks in Britain, France and Germany was still active.
Both European and U.S. officials said the plot was still in its early stages and not considered serious enough to raise the terror threat level.
Still, the Eiffel Tower in Paris was briefly evacuated Tuesday -- the second time in two weeks because of an unspecified threat -- and there was a heavy police presence around Buckingham Palace, Trafalgar Square and Big Ben.
Some details about the plot came from Ahmed Siddiqui, a German citizen of Afghan background who was captured in Afghanistan in July, a U.S. official said speaking on condition of anonymity because of the sensitivity of his work.
Intelligence authorities used National Security Agency wiretaps to flesh out details, U.S. officials said, and while a Mumbai-style shooting spree was one possibility, there was no concrete plan. The officials spoke on condition of anonymity because they were not authorized to speak about the plot.