EU imposes new sanctions on Russia for its actions in Ukraine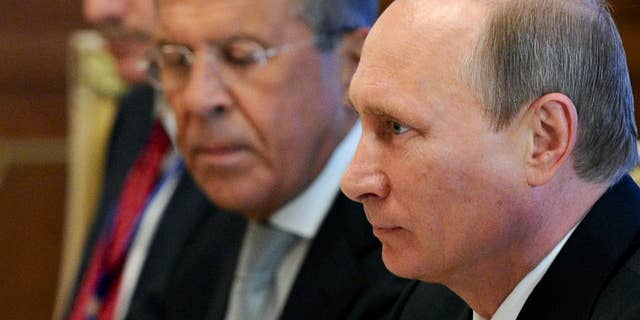 MOSCOW – New European Union sanctions against Russia announced Friday toughen financial penalties on the country's banks, arms makers and its biggest oil company, to punish Moscow for what the West sees as efforts to destabilize Ukraine.
The EU measures, details of which were released Friday after a preliminary agreement Thursday, broaden the scope of previous penalties. The United States was also expected to announce more sanctions Friday.
The EU measures include:
-- Further limits to some Russian companies' ability to raise money in EU markets. The restrictions now apply not only to banks but also to major oil company Rosneft, defense companies, pipeline operator Transneft, the oil subsidiary of energy giant Gazprom and others.
-- Broader limits on the export of high-technology EU goods that could also be used for military purposes.
-- Travel bans and asset friezes for another 24 officials. They include four deputy Parliament speakers and leaders of the separatists in eastern Ukraine. Also hit is businessman Sergei Chemezov, who is one of President Vladimir Putin's "close associates," according to the EU.
-- Bans for EU companies on new contracts in oil drilling, exploration and related services in Russia's Arctic, deep sea and shale oil projects. Russia's Rosneft oil company is majority-owned by the state, but Britain's BP holds a 19.75 percent stake in it.
Conspicuously absent from the list was Russia's gas industry, because many EU nations depend on Russian gas imports.
The measures are likely to hurt Russia's already flagging economy.
"Even though (targeted) companies are not threatened with an immediate liquidity crisis, the banks and firms concerned will painfully notice, especially the stronger constraints for short-term refinancing," said the managing director of the Association of German Banks, Michael Kemmer.