Ethiopia troops 'begin pullout' from key Somalian city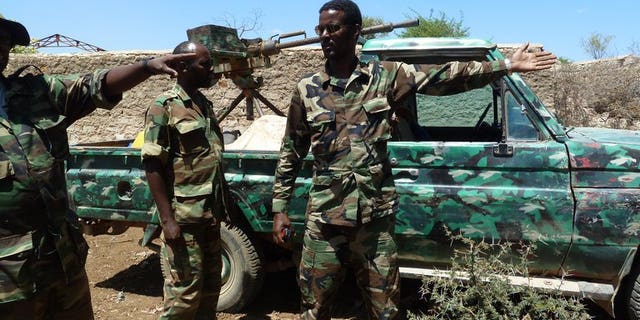 ADDIS ABABA (AFP) – Ethiopian troops who entered Somalia in November 2011 to help fight Al-Qaeda linked Shebab insurgents have begun their withdrawal from the key central city of Baidoa, the foreign ministry said Thursday.
"Ethiopia's troops are pulling out of Baidoa and AMISOM will be taking over," foreign affairs ministry spokesman Dina Mufti told AFP, referring to the African Union force in Somalia.
Ethiopia has for several months said it plans to hand over control of the city to AMISOM, whose 17,700-strong force is backing Mogadishu's weak central government.
Ethiopian troops captured Baidoa from the extremists last year, and AU troops later joined them.
"There is a firm schedule for Ethiopian troops to gradually withdraw from all of its operations this year on the basis that Shebab will not come back and take over. This requires strategy and coordination to ensure a smooth transition," said Dina.
In mid-March, Ethiopia pulled its troops from the southern town of Hudur without warning, leading to the Shebab immediately taking back the town, their first real military success since they were chased out of Mogadishu in August 2011.
The surprise and unexplained withdrawal from Hudur sparked fears that Ethiopia's pullout would lead to a security void and a possible return of the Shebab.
There are also doubts that AMISOM has the resources to take over the crucial role played by the Ethiopians.
A contingent of Kenyan troops which entered Somalia in October 2011 has since been integrated into AMISOM, but Ethiopia's forces -- estimated between 3,000 and 8,000 troops -- remained independent, with Addis Ababa footing the bill.
Despite recent infighting inside the Shebab -- including the recent killing of top leaders in a bloody purge -- analysts warn the extremist group is far from defeated.
The Shebab have lost a string of towns to the AU force, which fights alongside government soldiers.
However, key Shebab strongholds remain, including rural southern and central Somalia, while another faction has dug into remote and rugged mountains in the northern, semi-autonomous Puntland region.
Last month Shebab suicide commandos carried out a brazen daylight attack on a fortified United Nations compound, while a series of bombings by insurgents a week ago left five dead in the capital.
Somalia has been ravaged by conflict since 1991 but a new UN-backed government took power last year, ending eight years of transitional rule by a corruption-riddled administration.