Erdogan calls on US to extradite Pennsylvania-based cleric after failed Turkey coup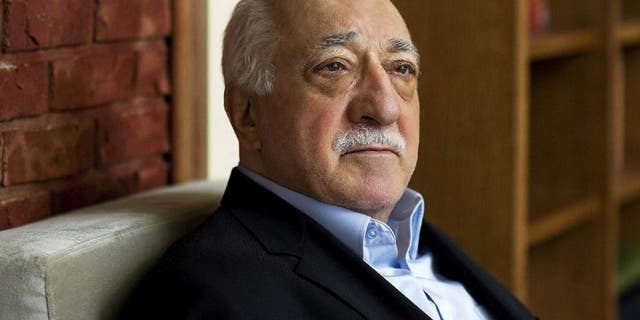 NEWYou can now listen to Fox News articles!
Turkish President Recep Tayyip Erdogan called on the U.S. Saturday to extradite a Muslim cleric living in Pennsylvania following a failed military coup.
In a televised speech, Erdogan said Turkey had never refused any request by the U.S. to extradite "terrorists" and invoked Washington and Ankara's relationship as "strategic partners" in an effort to force the return of Fethullah Gulen.
U.S. Secretary of State John Kerry said Saturday the Obama administration would entertain an extradition request but Turkey would have to prove wrongdoing by Gulen.
Gulen denied knowledge of the coup to reporters at his Pennsylvania compound Saturday. The cleric said that he knows only a "minute fraction" of his legions of sympathizers in Turkey, so he cannot speak to their "potential involvement" in the takeover attempt.
"You can think about many motivations of people who staged this coup. They could be sympathizers of the opposition party. They could be sympathizers of the nationalist party. It could be anything," Gulen, who has lived in the U.S. for more than 15 years, said through an interpreter.
The frail-looking Gulen, in his mid-70s, said he wouldn't have returned to Turkey even if the coup had succeeded, fearing he would be "persecuted and harassed."

"This is a tranquil and clean place and I enjoy and I live my freedom here," he said. "Longing for my homeland burns in my heart, but freedom is also equally important."
Erdogan and Gulen, former political allies, have fallen out in recent years over Erdogan's years-long crackdown on domestic dissent and Turkey's once-open media landscape.
Given the chance Saturday to deliver a message to Erdogan, Gulen demurred.
"If I were to send him a message, he would probably consider it as a slur and reject it," Gulen said, adding, "but I have always prayed for myself and for him. I have prayed to God to lead us to the straight path, to the virtuous path."
The cleric, who left Turkey in 1999, now lives in exile in a Pennsylvania Islamic retreat owned by Turkish-Americans and promotes a philosophy that blends a mystical form of Islam with staunch advocacy of democracy, education, science and interfaith dialogue. He rarely speaks to the media, but his sermons appear online.
"Turkey will not be run from a house in Pennsylvania," Erdogan said in remarks earlier Saturday was quoted as saying by TRT World. "Turkey is not a country that can be bought or sold cheaply."
In his own statement, Gulen said he condemned "in the strongest terms, the attempted military coup in Turkey" and sharply rejected any responsibility for it.
"Government should be won through a process of free and fair elections, not force," Gulen said. "As someone who suffered under multiple military coups during the past five decades, it is especially insulting to be accused of having any link to such an attempt. I categorically deny such accusations."
The Turkish government detained thousands in the military after quashing the coup attempt and reasserting control of the country's two major cities. Authorities said at least 265 people had been killed in the violence and more than 1,400 others were wounded.
Before Friday's coup attempt, more than 2,000 Gulen supporters had been arrested in Turkey on various charges since their split in 2013. In March, Turkish authorities seized control of one of Turkey's largest newspapers, Zaman, which was associated with Gulen.
Even before the latest unrest was under control, Erdogan's government pressed ahead Saturday with a purge of Turkish judicial officials, with 2,745 judges being dismissed across Turkey for alleged ties to Gulen, according to the state-run Anadolu news agency. It said 10 members of Turkey's highest administrative court were detained and arrest warrants were issued for 48 administrative court members and 140 members of Turkey's appeals court.
Gulen preaches what many consider a moderate form of Islam. And he has regularly and stridently condemned jihadist terror attacks –much more so than Erdogan, say the president's critics – and typically advocates interfaith dialogue.
Gulen's movement is widely considered dangerous in Turkey. In Erdogan's view, he is an arch-enemy of the state, whose followers represent a seditious "parallel-state" within Turkey.
Gulen is specifically accused of scheming to have his followers infiltrate the Turkish government for the purpose of overthrowing Erdogan's ruling Justice and Development Party, known by its Turkish acronym as the AKP. Gulen also faces espionage charges, and two trials are now being held in absentia.
He is the head of a faith-based social movement that boasts a global following, has deep roots in Turkish society, and cultivates notable influence in the U.S. education through a network of roughly 150 secular charter schools.
Fox News' John Lauinger and The Associated Press contributed to this report.