El Chapo's wife visits Washington to press for better treatment for her husband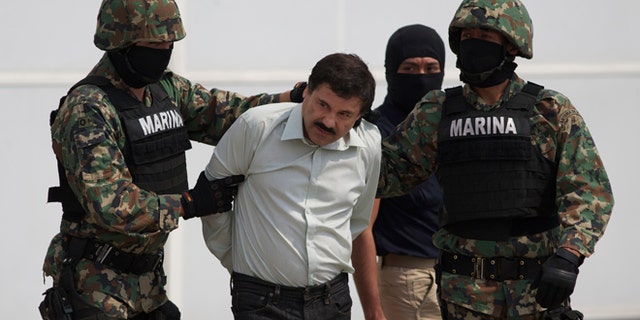 NEWYou can now listen to Fox News articles!
As Mexican drug lord Joaquín "El Chapo" Guzmán sits in prison waiting to hear if he'll be extradited to the United States, the women in his life have been keeping busy.
Earlier this month Guzmán's wife, Emma Coronel Aispura, traveled to Washington D.C. to hold a series of meetings at the Inter-American Commission on Human Rights, an arm of the Organization for American States.
Citing privacy issues, the commission would not comment on the purpose or details of the meeting, but Andres Granados, an attorney for Guzmán, said that the drug lord's wife was in the U.S. capital seeking to file a petition with the commission and to have an investigation launched into the conditions of his imprisonment in Mexico.
Coronel – a former beauty queen and a U.S. citizen who now lives in Mexico – is upset at how Mexican officials are treating her husband while he is behind bars.
"I fear for his life," she said earlier this year during an interview with Telemundo. "We don't know if he is eating well. We don't know what his situation is because we haven't seen him."
Cornel's lawyer said that the drug lord's wife was tailed by what she assumes to be U.S. law enforcement while she making her rounds in the U.S.
"That's how it is for her, she knows they always have her under surveillance," Granados said.
U.S. officials said that Coronel was questioned upon entering and exiting the country as part of the customs process, but because she holds dual U.S. and Mexican citizenship and has no charges against her she was allowed to come and go without any problems.
The news of Chapo's wife's trip to Washington emerged a few days after the drug capo's mother had a frightening incident in which 150 heavily armed gunmen raided her hometown and left at least eight people dead in what some are calling the first shots of a nascent cartel war.
The attack, which is believed to have been organized by members of a criminal group formed by the Beltran Leyva Organization and trafficker Fausto "Chapito" Isidro Meza Flores, sacked the home of Consuelo Loera, Guzmán's mother, in the town of La Tuna and made off with two vehicles called Razers and at least three all-terrain motorcycles. They also severed telephone and internet lines.
The BLO was aligned with Guzmán's Sinaloa cartel until 2008, while Meza Flores is believed to head a criminal group called "Oficina" that consists of former members of cartels, including the Zetas, the Gulf cartel and the BLO.
"As a result of this rivalry, the Meza Flores [drug trafficking organization] has engaged in an extremely violent turf war with the Sinaloa Cartel which has resulted in the quadrupling of drug-war killings in the last four years and an increase in kidnappings and arson within the state of Sinaloa," the U.S. Department of Treasury said in a 2013 statement.
Despite widespread reports of a large raid by cartel hitmen, the governor of Mexico's Sinaloa state, Mario López Valdez, denied reports of the shooting or of deaths and said that the incident was a family conflict.