Eiffel Tower closed 'until further notice' after climber scales iconic Paris attraction
One of the top tourist attractions in Paris was forced to close Monday after a man scaled the iconic Eiffel Tower.
The operators of the attraction tweeted around 10 a.m. ET that the tourist site was "closed until further notice" after the unidentified climber was spotted on the top side of the tower.
A person could be seen dangling just below the third and highest level of the 1,063-foot structure. A rescuer dressed in red was just above him.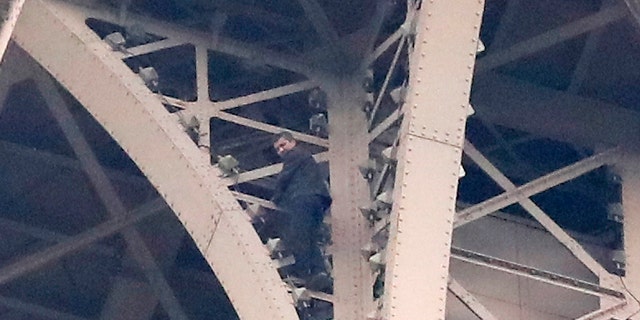 "We kindly advise our visitors to postpone their visit," officials said.
'SUMMIT OF THE BEAR' HELD BETWEEN SPAIN AND FRANCE AFTER BEARS ATTACK SHEEP
Police told the Associated Press the climber was a male. It wasn't immediately clear how the trespasser managed to get past the stringent security system.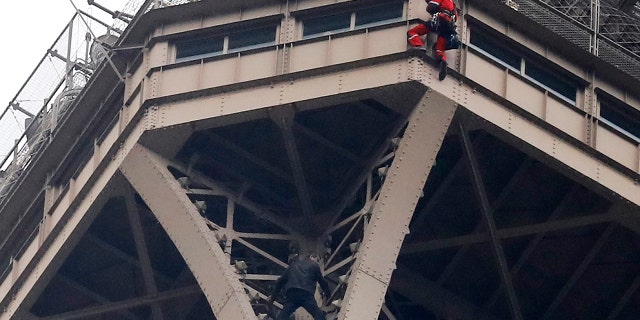 Claire Murphy, the Deputy News Editor of the Irish Independent, was at the top of the tower and shared on Twitter she was "not allowed to leave" during the security incident.
"We are being told a guy paid in and then started to climb from the second floor," Murphy wrote. She later added that authorities were "negotiating with the guy" as people were being allowed to descend the tower.
The incident drew many of post on social media as authorities cleared people away from the area.
"Just having a picnic in the park when we notice there is literally a guy dangling from the Eiffel Tower," one person tweeted.
"WHY WOULD YOU CLIMB UP THE EIFFEL TOWER," another person posted to Twitter.
The incident drew a massive response of police and firefighters, France's BFM-TV reported. A Paris police spokeswoman said a team of firefighters including a climbing specialist was on the scene and in touch with the intruder, whose motivations remain unclear.
Officials haven't immediately provided further information about the incident, and it's not known when the Eiffel Tower will reopen.
CLICK HERE FOR THE FOX NEWS APP
It's not the first time someone has attempted to climb up the tourist attraction. In 2015, British "freerunner" James Kingston climbed the edifice without safety ropes and without permission, dodging security cameras as he went.
The Associated Press contributed to this report.