Egypt's president to visit US next month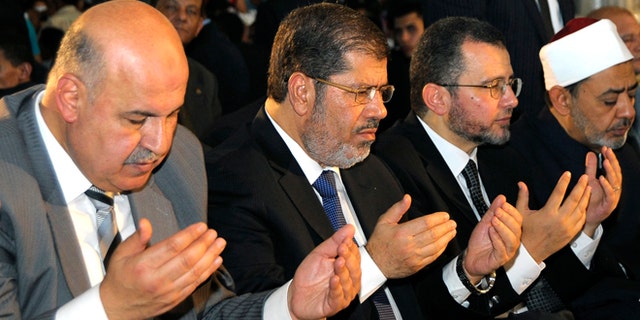 CAIRO – Egypt's Islamist president will visit the United States next month, an aide said Wednesday. The visit could serve as a step toward cementing Egypt's longtime alliance with the U.S.
It will be Mohammed Morsi's first trip to the U.S. since taking office June 30 but not his first American experience. He received a doctorate in engineering from the University of Southern California in 1982.
Moving to reshape the former regime's foreign policy, which many Egyptians see as too pro-Western, Morsi chose to visit Saudi Arabia as his first trip outside the country as president, followed by a visit to Ethiopia. He is also planning a trip to China and Iran.
Presidential spokesman Yasser Ali told reporters that Morsi's three-day visit to the U.S. will begin Sept. 23. It will include stops in Washington and New York, where he will attend the U.N. General Assembly session.
White House spokesman Josh Earnest would not say Wednesday whether President Barack Obama will meet Morsi.
The Brotherhood has been trying to counter concerns in Washington, sending delegations to the U.S. to argue that it is a moderate Islamist group with no anti-American agenda.
U.S. officials recently pledged additional foreign aid to Egypt, a gesture toward maintaining close ties.
The U.S. has been giving Egypt about $1 billion a year in military aid for more than three decades.
China's Foreign Ministry said Morsi would make a state visit there Aug. 28-30. China is a key potential partner for trade and aid. From there Morsi travels to Iran.
Morsi's trip to Iran, where he will attend the summit of the Non-Aligned Movement, will be the first by an Egyptian president in decades. After Iran's Islamic Revolution in 1979, Tehran distanced itself from Egypt over its close ties with the U.S. and its peace treaty with Israel.
For years, Iran and Egypt have had low-level diplomatic representations, handling contacts through interest sections.