Egypt's president-elect Mohammed Morsi to be sworn in Saturday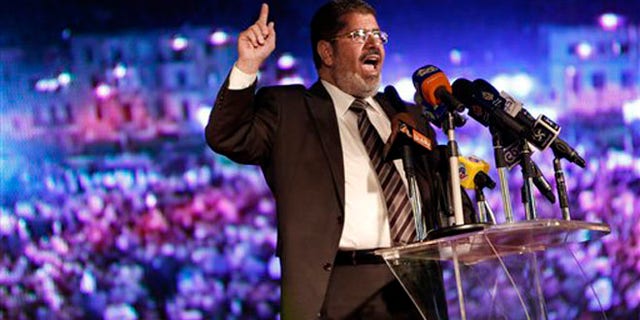 NEWYou can now listen to Fox News articles!
CAIRO – Egypt's official news agency says the newly elected Islamist president will be sworn in Saturday before the a high court.
Traditionally the president is sworn in before parliament, but the legislature was dissolved by order of the Supreme Constitutional Court, which invalidated parliamentary elections.
Therefore, Mohammed Morsi will be sworn in by that court, which features judges appointed by ousted President Hosni Mubarak.
The official MENA news agency on Thursday quoted court vice president Maher Sami as saying Morsi would be sworn in before the body's 18 judges.
Morsi ran for president as the candidate of the Muslim Brotherhood, which dominated the dissolved parliament and pressed for the house to be reinstated to swear him in.
Morsi was declared winner of the runoff election on Sunday.