Egypt's Premier Calls for Dialogue to End Crisis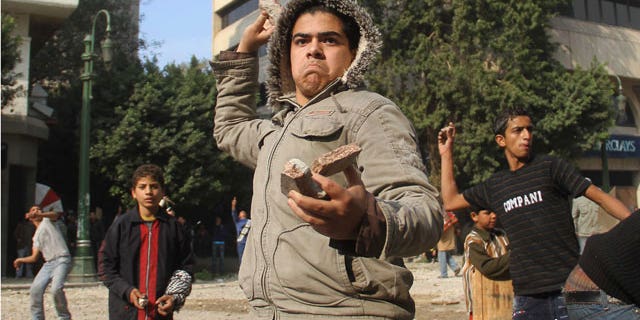 CAIRO-- Egypt's military-appointed prime minister on Thursday called for national dialogue to resolve the country's political crisis and pleaded for a two-month calm to restore security after weeks of protests and bloodshed.
Kamal el-Ganzouri also told a news conference that the ruling military, which took over from longtime leader Hosni Mubarak 10 months ago, was eager to relinquish power and deliver the country to civilian rule, as demanded by some activists and those still staging protesters in the streets around Cairo's Tahrir Square.
"They want to leave today, not tomorrow," he said without elaborating.
Few, if any, of the activists demanding an immediate end to military rule are likely to take up the offer of dialogue. Instead, they are focused on finding ways to persuade and pressure the generals to quickly step aside, such as offering them immunity from prosecution over the deaths of protesters killed in recent clashes with soldiers and police or calling for presidential elections by next month.
At least 100 people have been killed in such confrontations and in sectarian violence since the military took power in February.
The deaths, coupled with the brutality shown by army troops against protesters, including women, have prompted some activists to consider suing the generals in local courts or try to have them put on trial before the International Criminal Court in The Hague, Netherlands.
The death toll from the past week's violence near Tahrir Square reached 17 on Thursday, after two wounded protesters died of their injuries, according to the Health Ministry.
About 3,000 students from Ain Shams University in Cairo marched Thursday after a prayer service for an engineering student killed in the recent clashes. He died Wednesday from a bullet wound sustained earlier. Students carried a symbolic coffin, Egyptian flags and a large picture of Mubarak in a noose.
A Cairo protest rally is scheduled for Friday, called "Regaining honor and defending the revolution."
Ziad el-Oleimi, a newly elected lawmaker who was among the leading figures during the uprising, said for calm to be restored, the culprits behind the recent violence must be brought to trial and held accountable.
"This is just an attempt to gain time, and to make people hate the revolution even more," he said.
"The prime minister never admitted a mistake. He is responsible for those killed."
For months, activists have criticized the generals' handling of the country during the tumultuous transition, taking aim in particular at their human rights record and their failure to revive the economy or restore security.
Under the military's own timetable for stepping aside, it has pledged to hold presidential elections before the end of June 2012. Staggered parliamentary elections are already under way, with two rounds of voting held. A third and final round is slated for early next month.
Turnout was light in the second day of voting in run-off elections on Thursday. More than 100 candidates are competing for 59 seats in the parliament, already clearly dominated by Islamist parties. A third round of voting will begin on Jan. 3.
The 78-year-old el-Ganzouri, who was appointed by the military last month in a failed attempt to quiet protests, is a veteran of the Mubarak regime. He served in several Cabinet posts for more than a decade before a previous stint as prime minister that began in 1996.
The military's choice of a Mubarak-era figure angered the revolutionaries who saw it as fresh evidence of the military's loyalty to the toppled regime.
"I say to everyone that we must forget the past and move forward in a dialogue with all shades so that Egypt can live in peace," el-Ganzouri said in his appeal Thursday.
"This is a salvation government that came to save the revolution," he said, offering a nod to the revolutionaries behind the 18-day uprising that toppled Mubarak's 29-year rule.
In a possible sign that the military could end its rule earlier than planned, a member of a civilian advisory panel appointed by the military said the generals were prepared to look into proposals to speed up the transition of power.
"The military council wants to reaffirm that it is not interested in power and it wants to hand it over to civilian institutions," panel member Hassan Nafaa said.
He added that there was no consensus yet among the panel's members on any proposals being studied.
The generals have yet to directly comment on such a possibility.
One proposal is for the next parliament to name a temporary consensus president next month to take over the running of the country until presidential elections are held.
The country's powerful Muslim Brotherhood, which has led the Islamists' domination of the voting, has shied away from backing these proposals, saying they should wait until after the elections are completed next month. The Brotherhood has criticized protesters, weakening the campaign against military rule.