Egypt's Damaged Artifacts to Be Restored in Days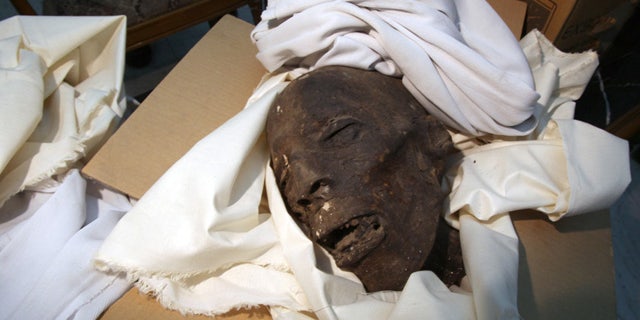 CAIRO – A handful of ancient Egyptian artifacts housed at the Egyptian museum that were damaged by looters will be restored over the next five days, the country's antiquities head said Monday.
Zahi Hawass also said that steps were being taken to reopen Egypt's famed archaeological sites, which have been closed since unrest seized the country two weeks ago. And reports of King Tut's famous parents being damaged was patently false, he told FoxNews.com.
"The mummies were not royal and not being stored within the Egyptian Museum, Cairo," Hawass said. "They were two already disembodied heads being temporarily stored next to the CT scanning lab in the museum's grounds. They are the remains of unidentified Late Period individuals that were going to be used to test the CT machine. When they were retrieved from the looters, they were in the same condition they were in when in storage."
During huge anti-government protests on Jan. 28, looters climbed a fire escape and broke into the museum, damaging a number of items, including the two mummified skulls. Originally the skulls were thought to have been attached to mummies, but Hawass said they were being used to test a new CT scanner and were not from the royal mummy collection.
The thieves quest, Hawass said, was based on an erroneous belief in the magical power of mummies.
"The thieves were desperately looking for a mummy in order to find what they thought to be a magical substance used by the ancient Egyptians in mummification. Therefore, they smashed a showcase of an empty coffin looking for a mummy and gold objects. These incidents show the ignorance of the vandals," he wrote on his blog.
Among the 70 objects damaged was also a statue of King Tutankhamun standing on a panther and a wooden sarcophagus from the New Kingdom period, dating back more than 3,000 years ago.
The museum, which is right next to the massive protests still taking place in downtown Cairo, is now being guarded by the army. Initially, when the demonstrations began, civilians formed a human chain to protect the building.
The museum is home to the gold mask of King Tut that draws millions of tourists a year, and houses thousands of artifacts spanning the full sweep of Egypt's rich Pharaonic history.
Hawass also asserted that the nearby archaeological digs Saqqara, Memphis and Abu Sir were secure following reports of looting there.
The Associated Press contributed to this report.