Egypt's Christians Hold Mournful Holiday Masses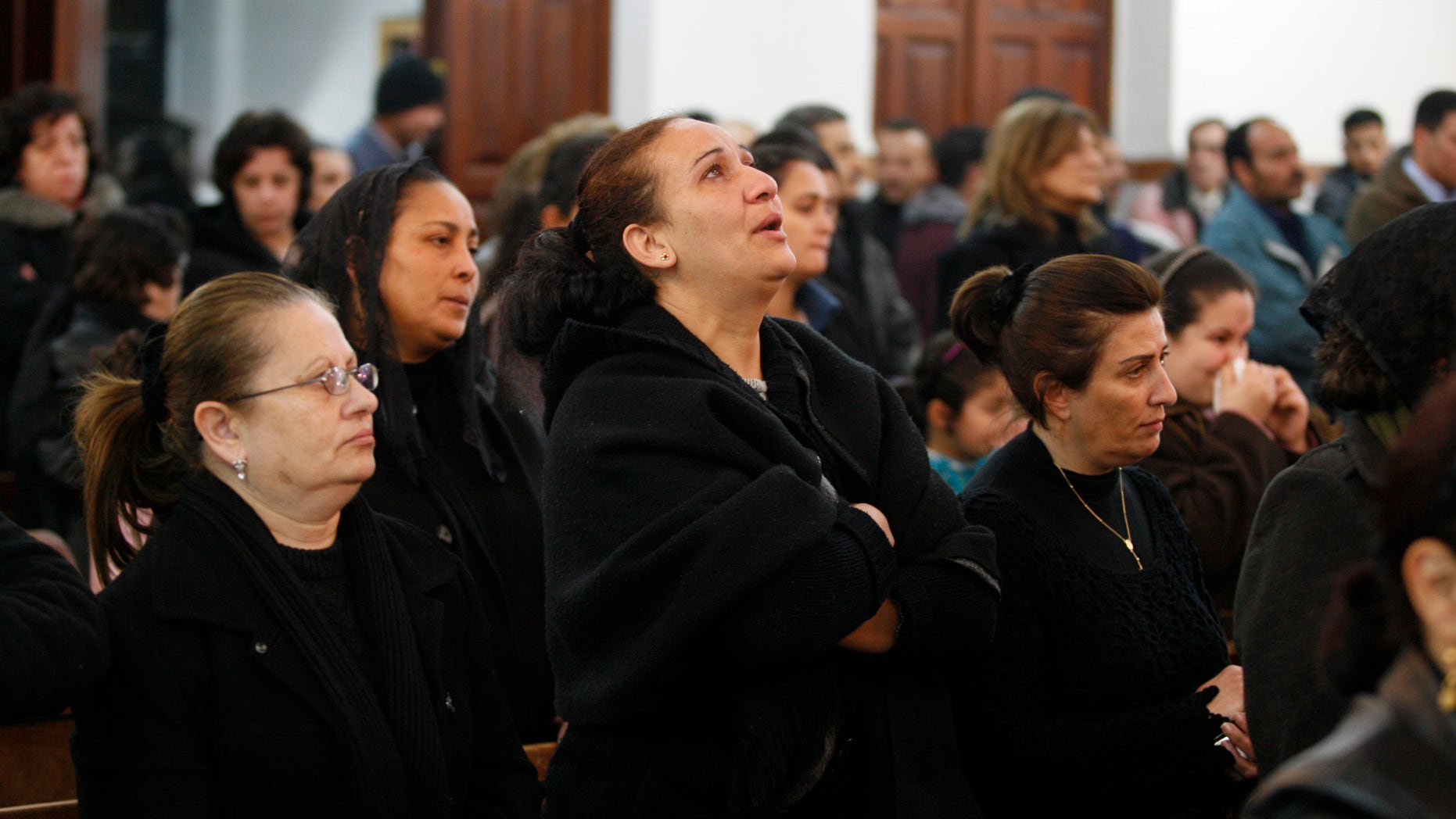 CAIRO -- Egypt's Christians held mournful Christmas Eve Masses on Thursday, weeping and donning black in place of colorful holiday clothes, under a heavy security cordon by police, fearing another attack like the New Year's suicide bombing of a church that killed 21 people.
At church gates around Cairo, police and church staff checked the IDs of those entering -- and their wrists, where many Egyptian Christians bear the tattoo of a cross.
Al-Qaeda in Iraq had threatened Christians in Iraq and Egypt in the weeks leading up to the holidays, and militant websites have even posted online lists of churches in Egypt to target with their addresses -- raising fears of a follow-up attack on celebrations of the Orthodox Christmas, which Egypt's Coptic Christian minority marks on Friday.
The heavy police presence also appeared aimed at addressing Christians' fury -- unleashed in clashes with police in the wake of Saturday's church bombing -- over what they say is the government's failure to protect them and its ignoring of anti-Christian sentiment among Egypt's Muslim majority.
In that vein, state TV gave heavy coverage to the Christmas Eve Mass. As it has in past years, the service was being broadcast live from Cairo's Coptic Cathedral, the seat of the Church, along with Pope Shenouda III's sermon.
But this year, the ceremony was preceded by a live discussion by a team of prominent TV hosts and newscasters, all dressed in black, standing on the cathedral steps and speaking of unity between Muslims and Christians. A tiny logo of an intersecting cross and crescent was set in the corner of the screen. Christmas was declared a national holiday several years ago, in a nod by the government to inclusiveness.
"Today, I don't say I'm Muslim or I'm Christian," one of hosts pronounced. "I say, I'm Egyptian."
But many Christians remained bitter, jaded by state professions of unity that are repeated after previous instances of anti-Christian violence with little action to change what they call growing sentiment against their community. There were concerns of new protests following the Thursday night Mass.
"Some Muslims are good people," said Raymonda Ramzy, a 45-year-old worshipper dressed in black entering Mass at the main Coptic Church in the Cairo district of Giza. "But even on my way here, a couple of young men shouted at me, 'God take you all and rid us of you."'
While some Christians worried about attending services for fear of attack, she said, "I never hesitated. I wish I could die in church."
Egypt's Coptic Christian minority makes up 10 percent of Egypt's 80 million people but complains of widespread discrimination relegates them to second-class citizen status. There has been growing anti-Christian violence in past years, mostly shootings or clashes between Christians and Muslims in villages.
Saturday's bombing was the deadliest in a decade -- and was qualitatively different, the first ever such suicide bombing targeting Christians, raising concern that al-Qaida may have a role. The blast hit a crowd of worshippers leaving a midnight Mass at the Saints Church in the Mediterranean city of Alexandria, killing 21 and wounding nearly 100.
On Wednesday, the ministry published a picture of an unidentified man whose head was found at the site of the Alexandria attack. A security official said that church officials could not identify the man, and presumed that he might be the attacker.
In the southern province of Minya, a worker at a church on Thursday found a small explosive device packed with nails and fireworks planted under the building's stairs, a security official said, speaking on condition of anonymity because he was not authorized to brief the media. He said the device appeared to have been put there to "test security measures."
As Mass began, women and children who would normally be decked out in festive holiday colors wore black. At the main Giza church, no flowers or red carpet were laid out at the entrance as they usually are for the holiday. Police or church staffers asked those entering to show either a cross tattoo or an ID, which denote religion to prove they were Christian.
At the Saints Church in Alexandria, scene of Saturday's attack, a double line of riot police stood at each end of the street. A stream of black-clad worshippers flowed in and bells rang as Mass began. Blood splatters remained on some of the walls inside.
Across the country, police were preventing vehicles from parking near churches. At the Cairo cathedral, security officers with walkie-talkies fanned out across the streets surrounding the cathedral, and metal detectors were set up at the entrances.
Several daily newspapers reported that Egypt's Interior Ministry has asked church officials to prevent crowds from gathering in front of churches after Mass. The request appeared aimed at avoiding the same sort of target hit in the Jan. 1 bombing in Alexandria -- worshippers lingering outside of a church after a midnight service.
The measure could also be aimed at preventing further Christian protests. Riots in Alexandria and Cairo since the attack have been unusually fierce, with young Christians waving crosses and pictures of Jesus as they pelt riot police with stones and bottles.
There were signs of both sides in Egypt's divide struggling to heal the rifts.
The front pew at a church in the Cairo district of Omraniya was filled with prominent Muslims from the neighborhood -- their presence arranged beforehand with security to allow entry.
Women in Islamic headscarves sat near Christian women in the headcoverings they don in church. Many women sobbed heavily during the service. Omraniya was the scene of fierce Christian riots in November that left two dead, sparked when police stopped construction work at the church.
"This is the way our Egypt climbs new heights and become prosperous," Father Hanna said in her sermon of the Muslims' presence. "We thank our brethren who came to share with us the joy of our feast, and the pain we feel over."
In a gesture of solidarity, groups of Muslim activists turned out at some churches to act as human shields or join in the services. But heavy security limited entry to Christians and kept activists far back from the churches.
Around two dozen were a street away from the Saints Church, including six women in headscarves, holding signs reading "no to terrorism, yes to citizenship" and "long live the cross and the crescent."
"Egyptians are one people," said one of them, Hayam Dorbek, "It has nothing to do with politics, we are all Egypt."
Fadi Shehata, 15-year-old Christian entering the Saint's Church service, said that since the attack, "some Muslims have felt bad and their attitude has improved." Then he added, "but others..." and his voice trailed off.
Diana Maher, at the Giza church, acknowledged the attempts to heal the rifts. But she said her feelings toward Muslims had changed.
"At work, my Muslim colleagues and I say hello," she said. "But the first day back after the attack, I avoided them."