Egyptian singer sentenced to prison for racy music video involving banana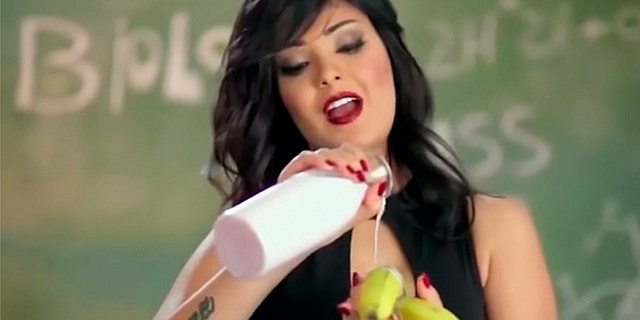 NEWYou can now listen to Fox News articles!
An Egyptian female pop singer was sentenced to two years in prison Tuesday after she was convicted of promoting debauchery for a racy music video that featured her provocatively eating a banana.
Shaimaa Ahmed, 25, better known by her stage name Shyma, was also ordered to pay a $560 fine.
The director of the music video for her song, "I Have Issues" was also sentenced to two years in prison, the BBC reported.
FREED PRISONER WITNESSED RADICALIZATION IN EGYPTIAN JAILS
Shyma appeared in the video clad in underwear and singing while suggestively eating an apple, a banana and a taco shell in front of a classroom filled with smiling young men.
The video created a stir on social media in conservative and Muslim-majority Egypt and was discussed on TV talk shows.
"Singer Shyma presents a lesson in depravity to youths," Youm 7, an Egyptian newspaper, wrote in an article following the video's release.
The singer apologized for the backlash the video received.
RUSSIA'S PUTIN LANDS IN EGYPT IN SIGN OF GROWING TIES
"I didn't imagine all this would happen and that I would be subjected to such a strong attack from everyone," Shyma wrote on her now-deleted Facebook page.
Shyma is not the first public figure to receive jail time for a music video. Last year, three female dancers were sentenced to six months in prison after they were convicted of "inciting debauchery in music videos," the BBC reported.
Sherine Abdel-Wahab, a famous Arab singer, was banned from performing in her native Egypt after advising against drinking from the Nile River. She was accused of "spreading provocative publicity."
"Drinking from the Nile will get me schistosomiasis," the singer told a fan last year at a concert after she was asked to sing "Have You Drunk From the Nile?"
Tuesday's verdict by the court of misdemeanors can be appealed.
The Associated Press contributed to this report.