Egypt militants bomb gas line to Jordan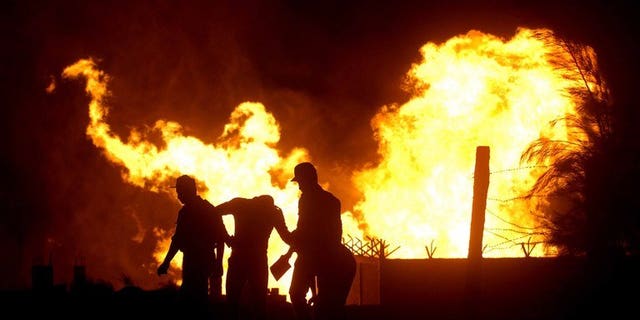 CAIRO (AFP) – Militants in Egypt's Sinai Peninsula bombed a gas pipeline to Jordan on Sunday, witnesses said, amid a surge in attacks on police and soldiers since Islamist president Mohamed Morsi's removal from office.
Witnesses told AFP the blast took place near the North Sinai provincial capital of El-Arish, scene of major disturbances since Morsi's overthrow by the military on Wednesday.
On Friday, armed Morsi supporters stormed the provincial headquarters, raising the black banner of Al-Qaeda-inspired militants, an AFP correspondent reported.
A Jordanian government official confirmed that gas supplies to the energy-poor kingdom were cut.
"The gas supplies to Jordan stopped due to the attack," the official told state-run Petra news agency.
"The Egyptian authorities have informed us that they are currently evaluating the situation and the damage," he added without elaborating.
Egyptian gas covers 80 percent of electricity generation in Jordan, which imports 95 percent of its energy needs.
Since veteran strongman Hosni Mubarak's overthrow in a popular uprising in early 2011, militants in the Sinai have repeatedly sabotaged the gas pipeline, which also supplies Israel.
But Sunday's bombing was the first reported in almost a year.