Egypt extends detention of Jazeera journalist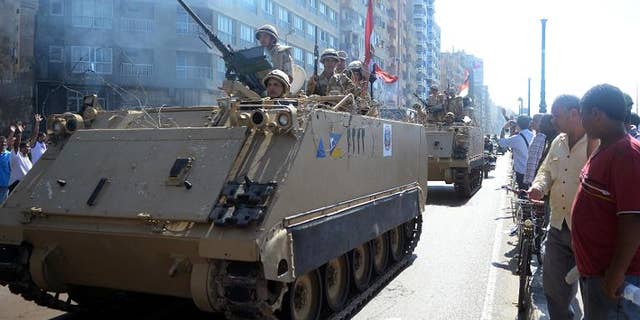 Cairo (AFP) – Egyptian prosecutors have extended the detention of an Al-Jazeera journalist for another 45 days, his lawyer said Thursday, amid accusations of a crackdown on the channel for pro-Islamist reporting.
Abdallah Elshami, an Egyptian citizen, was arrested on August 14 along with about 700 protesters when police and soldiers dispersed two Islamist protest camps in Cairo, sparking clashes that killed hundreds of protesters.
"The decision to extend the detention of 665 people arrested in Rabaa came last night," his lawyer Mostafa Attiya told AFP.
On Tuesday, a source at the state prosecutor's office said those arrested in the Rabaa al-Adawiya protest camp faced several accusations including possession of weapons and opening fire on police, killing five officers.
Abdallah, Al-Jazeera Arabic's West Africa reporter, had been stationed at the Rabaa al-Adawiya camp since July 4, a day after the military overthrew Islamist president Mohamed Morsi, his brother Mosaab said.
Police started a crackdown on the Qatar-based satellite broadcaster's Egyptian affiliate, Al-Jazeera Mubasher Misr, almost immediately after Morsi's overthrow, by raiding its offices and seizing its equipment.
A Cairo court ordered the closure of Al-Jazeera Mubasher Misr earlier this month, along with three Islamist channels.
Egyptian authorities and local media have accused Al-Jazeera of biased reporting of the popularly backed coup that toppled Morsi.
The decision came two days after Egypt expelled three foreign journalists working as freelancers for Al-Jazeera's English-language channel after police had held them for several days.
Al-Jazeera said it was submitting complaints to international courts against Egyptian authorities for detaining its journalists.