Egypt army chief speaks out on anti-Morsi coup, says Islamists threatened 'terrorist attacks'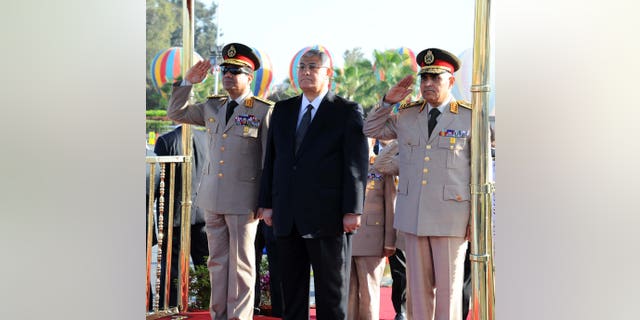 CAIRO – Egypt's powerful army chief says the group of the country's ousted Islamist president had warned of "terrorist attacks" if he was removed from power.
Gen. Abdel-Fatah el-Sissi says he spoke to President Mohammed Morsi repeatedly ahead of the popularly-backed July 3 coup, to try and resolve the political crisis.
El-Sissi says that 10 days earlier, the Muslim Brotherhood strongman Khairat el-Shater had said that if Morsi was toppled, Islamists over whom the Brotherhood has no control would unleash attacks.
El-Sissi's remarks were published Tuesday in Al-Masry Al-Youm daily.
The rare interview came a day after attacks targeting Egyptian security and military forces killed nine troops. The attacks were in apparent retaliation by Islamic militants after more than 50 people were killed Sunday in clashes with police.