Ecuador election council agrees to recount 1.3 million votes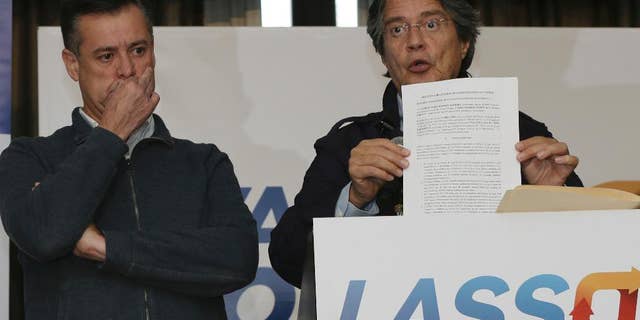 NEWYou can now listen to Fox News articles!
QUITO, Ecuador – Ecuador election officials have agreed to recount 1.3 million votes as opposition leader Guillermo Lasso continues to allege fraud in the presidential election.
The National Electoral Council announced late Thursday it would review all the disputed voting acts in a recount to be held next week in capital city of Quito.
Official results from the April 2 election showed former banker Lasso losing the election by less than 3 percentage points to Lenin Moreno, President Rafael Correa's handpicked successor.
Lasso filed a complaint Wednesday demanding a recount of all ballots cast in the election. He has not yet responded to the electoral council's decision.
The Organization of American States has said its mission at 480 voting centers nationwide found no discrepancies between the tallies and official results.