Duterte tells UN expert 'to go to hell' over criticism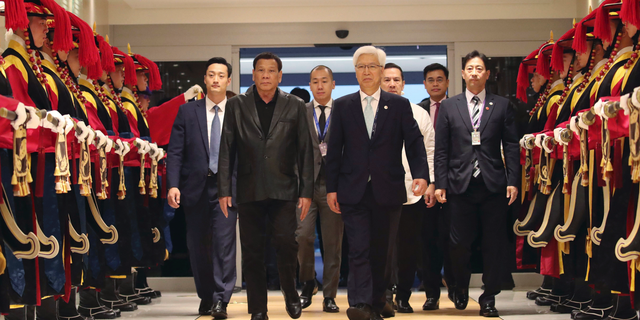 NEWYou can now listen to Fox News articles!
MANILA, Philippines – The Philippine president has lashed out at another U.N. human rights expert for making critical remarks about his supposed role in the expulsion of the Supreme Court chief justice.
President Rodrigo Duterte dismissed the remarks of Diego Garcia-Sayan and told him in a televised speech early Sunday not to meddle in domestic problems and "to go to hell." Duterte was replying to a reporter's question before flying on a visit to South Korea.
Garcia-Sayan told reporters in Manila on Thursday that the unprecedented ouster of Maria Lourdes Sereno as chief justice after Duterte lambasted her in public is an attack on judicial independence that could put Philippine democracy at risk.
Duterte has reacted similarly against other U.N. rapporteurs who raised alarm over his deadly campaign against illegal drugs.