Drug 'Queen of the Pacific' returns to Mexico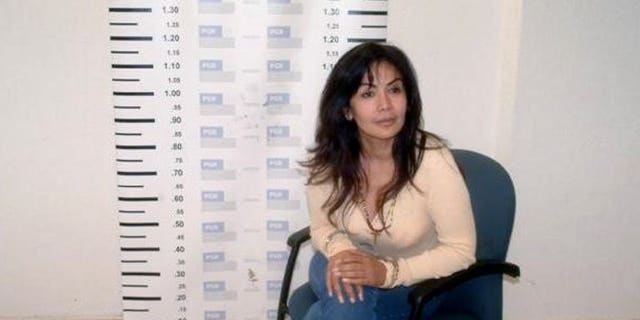 MEXICO CITY (AFP) – A Mexican woman known as the "Queen of the Pacific" for her links to drug trafficking returned home Tuesday to face money laundering charges after the United States deported her.
Sandra Avila Beltran, who was convicted by a US court for helping a drug lord evade arrest, stepped off an airplane in handcuffs after landing in Mexico City on a special US flight that repatriates migrants, TV footage showed.
The dark-haired woman, born in 1960, made headlines by flashing a smile to news cameras following her first arrest in 2007. She inspired a soap opera and got her nickname from a Mexican drug ballad, known as a narcocorrido.
A Mexican government official, who requested anonymity, said Avila Beltran underwent medical tests at the airport and was later put on a plane to the western state of Jalisco, where she will appear before a judge in the money laundering case.
When Mexican authorities detained her six years ago, they presented her as a member of the infamous Sinaloa drug cartel who played a key role in drug smuggling to the United States via the Pacific Ocean.
But she was acquitted in Mexico and then extradited to the United States in September 2012.
In the United States, she reached a plea deal that resulted in her conviction as an accessory after the fact in keeping her ex-boyfriend, Colombian drug trafficker Juan Diego Espinosa "El Tigre," from being apprehended.
Last month, a US judge sentenced her to 70 months in prison but he ordered her release and deportation due to time already served in Mexico and the United States.
She was transferred to an immigration center in El Paso, Texas, before being flown home under Mexican police custody.
Avila Beltran has admitted having links to the cartel underworld but denies having a role in drug trafficking, insisting that she amassed her fortune through real estate and her work in fashion.
In a prison interview with journalist Julio Scherer, who wrote the book "Queen of the Pacific: Time to Talk," she said her mistake was her "circumstantial" meetings with drug lords such as Rafael Caro Quintero.
Caro Quintero, who co-founded one of the first Mexican drug cartels, was abruptly released from prison this month after serving 28 of his 40-year prison sentence for the killing of a US Drug Enforcement Administration agent.
She also claimed to have met Mexico's most wanted man, Sinaloa drug kingpin Joaquin "El Chapo" Guzman.