Dozens of youths attack police with petrol bombs, burn cars after anarchist protest in Athens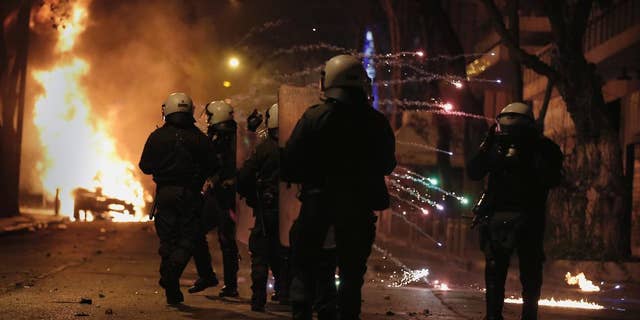 ATHENS, Greece – Rioting youths have clashed with Greek police in central Athens, damaging vehicles and property, following a demonstration by hundreds of anarchists seeking the abolition of a maximum security prison.
Dozens of rioters threw petrol bombs and stones at police, who responded with tear gas. Four people were detained in Tuesday's clashes, while no injuries were immediately reported.
At least two cars were burnt and one shop front was smashed.
Anarchists have stepped up protests since Greece's new radical left-led government was elected in January. They want authorities to close a maximum-security prison where many convicted militant anarchists are held — and have continued their protests despite government pledges to do so soon.
Opposition parties have criticized the government for failing to take a tough stance on the protests.