Dozens of Taliban Killed as War Enters 10th year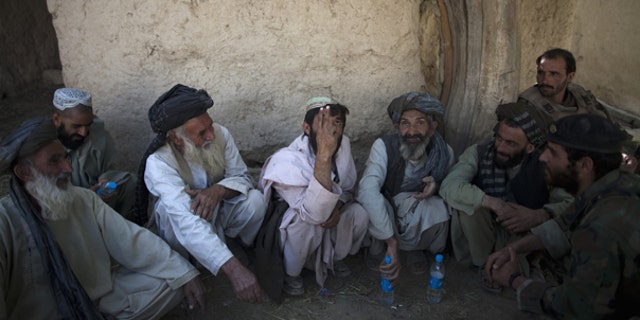 KABUL, Afghanistan – Airstrikes and ground operations by NATO and Afghan troops killed dozens of insurgents, including a senior Taliban leader who spearheaded attacks against security forces, the alliance said Thursday as the war in Afghanistan entered its 10th year.
Sixteen militants were killed in air raids and ground fighting overnight in the Darqad, Yangi Qala and Khwaja Bahawuddin districts of Takhar province, Gen. Shah Jahan Noori, provincial police chief, told The Associated Press. More than a dozen insurgents were wounded.
Northern Takhar has been the scene of escalating military operations in recent days, as NATO and Afghan forces step up the battle for control of the Taliban-dominated south.
Noori said his convoy was ambushed early Thursday and four attackers were killed in a gunbattle that lasted several hours. No joint force casualties occurred, he said.
Taliban commander Maulawi Jawadullah — accused of organizing deadly ambushes, roadside bombings, and abductions of Afghan police and soldiers in northern Afghanistan — was killed in an airstrike Wednesday in Yangi Qala district, NATO said.
Jawadullah was linked to the recent deaths of 10 Afghan National Police officers during an attack on a police station in neighboring Kunduz province, an alliance statement said. Seven other Taliban also died in the assault, including three who opened fire from a forest when coalition forces moved in following the airstrike.
Thursday was the ninth anniversary of the American invasion of Afghanistan, a frustrating benchmark for those who expected a quick exit after small targeted special forces toppled the Taliban from power in 2001.
This week also marked another milestone as the death toll for NATO forces surpassed 2,000. At least 2,004 NATO service members have died fighting in Afghanistan since Oct. 7, 2001, according to an AP count.
A NATO service member was killed Thursday in an insurgent attack in the country's north, and another died in a roadside bombing a day earlier in the south, the alliance announced, without providing their nationalities or the specific locations. The attacks brought to at least 15 the number of NATO deaths so far in October.
"NATO is here and they say they are fighting terrorism, and this is the 10th year and there is no result yet," Afghan President Hamid Karzai said in an emotional speech last week. "Our sons cannot go to school because of bombs and suicide attacks."
The Taliban issued a statement marking the invasion anniversary, claiming 75 percent of Afghanistan was now under its control.
"The strongholds of jihad and resistance against the invading Americans and their allies are as strong as ever," it said. "The invading Americans spent hundreds of billions of dollars in order to continue this illegitimate war, lost thousands of soldiers — with tens of thousands of them being injured — and faced heavy losses in terms of military hardware."
The Taliban urged the U.S. and its allies to immediately leave the country.
In a report released Thursday, the Open Society Foundations — a think tank backed by liberal billionaire George Soros — said Afghans are increasingly angry and resentful about the international presence in Afghanistan and do not believe insurgents are responsible for most attacks and civilian deaths.
"While statistics show that insurgents are responsible for most civilian casualties, many we interviewed accused international forces of directly stoking the conflict and causing as many, if not more, civilian casualties than the insurgents," researchers said in the report. "Many Afghan communities drew these conclusions only after they suffered from civilian casualties, night raids, detention operations, and saw few signs of progress in their country."
The report was based on interviews in late 2009 and 2010 of more than 250 Afghans in seven provinces, along with discussions with community leaders in other parts of the country.
Meanwhile, an Afghan-NATO force killed six insurgents and destroyed a compound used for making improvised explosive devices Wednesday in Arghandab district of Kandahar province, said the governor's spokesman, Zulmi Ayubi.
A joint patrol also seized a vehicle with 1,700 pounds (760 kilograms) of heroin, 550 pounds (250 kilograms) of hashish, 220 pounds (100 kilograms) of wet opium, five anti-personal mines, and bomb-making materials in Kandahar, he said.
In eastern Wardak province, assailants threw a hand grenade at a wedding party, wounding four people, Afghan's Interior Ministry said Thursday. A ministry statement did not specify when the attack occurred.
Three militants were killed Wednesday night in southeastern Zabul province during a firefight with a joint force, said Mohammad Jan Rasoolyar, spokesman for the governor. A woman died after stepping on a land mine in the province's Mizan district Thursday.
___
Associated Press writers Heidi Vogt and Rahim Faiez in Kabul, and Mirwais Khan in Kandahar contributed to this report.