Dozens hurt after explosion hits protesters in Bangkok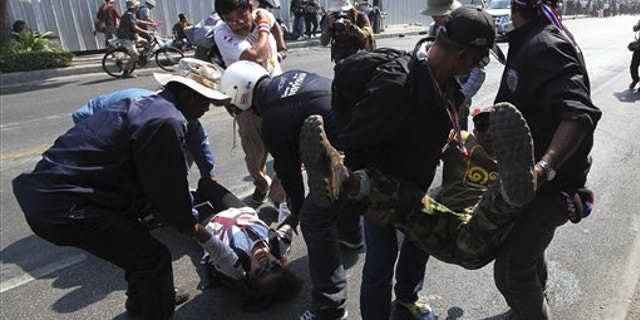 Dozens of people were wounded in Thailand's capital Friday when a grenade was hurled at anti-government demonstrators marching through Bangkok at midday, an ominous development that raises tensions in the country's political crisis and the specter of more bloodshed to come.
Protest leader Suthep Thaugsuban was in the procession but was not wounded when the explosive device was thrown into a truck driven by demonstrators that was several dozen meters (yards) ahead, spokesman Akanat Promphan said. The city's emergency services center put the number of injured at 31.
Police said the grenade was hurled from a nearby building.
Thailand has been wracked by repeated bouts of unrest since the military ousted former Prime Minister Thaksin Shinawatra in 2006 amid charges of corruption and alleged disrespect for the monarchy. The crisis boiled over again late last year after the ruling party attempted to push through an amnesty bill that would have allowed Thaksin to return from exile.
Anti-government demonstrators seeking to oust Thaksin's sister, Prime Minister Yingluck Shinawatra, have taken over seven key roads and overpasses in Bangkok this week, blocking them off with sandbag walls and steel barricades.
The protests, which are also aimed at derailing Feb. 2 elections, have been peaceful. But small acts of violence have reported nightly, including shooting attacks at protest venues and small explosives hurled at the homes of top protest supporters. It is unclear who is behind them.
Prolonged violence, even on a small scale, increases the risk of a military coup, which would benefit the protest movement. Thailand's army has seized power 11 times since the end of absolute monarchy in 1932.
Overnight, two motorcycle-riding men drove past the residence of Bangkok Gov. Sukhumbhand Paribatra and hurled a grenade inside, according to police Col. Samarn Rodkamnerd. Sukhumbhand, who is member of the Democrat Party which is backing the protesters, was not home and no injuries or serious damage were reported.
The attack was similar to another grenade attack on the home of Abhisit Vejjajiva, a former Democrat prime minister whose party lost to Yingluck's in a 2011 vote.
The violence comes as pressure mounts against Yingluck to resign. She is facing new legal troubles after the National Anti-Corruption Commission announced late Thursday that it had found grounds to investigate allegations that Yingluck was criminally negligent in her handling of what the government has described as a deal to export surplus rice to China. The commission has already determined that there are grounds to press charges against her former commerce minister and more than a dozen other officials.
If found guilty, Yingluck would be forced to resign.
Yingluck's supporters fear the move is part of a legal push by opponents to oust her. After her brother Thaksin was toppled in 2006, court rulings forced two other pro-Thaksin heads of government from power.
The rice pledging scheme is one of several populist policies the ruling Pheu Thai party campaigned on before winning the 2011 vote that brought Yingluck to office.
Under the policy, the government buys rice at above-market prices from rice farmers, mostly in the north and northeast, and attempts to sell it to other countries. Critics say the government has been deliberately opaque in its transactions and warn the policy will bring the country to the brink of financial ruin. Last year, Thailand lost its place as the world's leading rice producer.
Yingluck's opponents, largely from the south and urban middle and upper classes, say she is carrying on the practices of her billionaire brother by using the family fortune and state funds to influence voters and cement her grip on power.
But she has widespread support among Thailand's poor majority in the countryside because of the populist policies carried out by her brother, who lives in self-imposed exile to avoid being imprisoned on a corruption conviction.
Since the latest wave protests started in November, at least eight people have been killed and more than 450 have been injured.
Despite the pressures, Yingluck has said repeatedly that the Feb. 2 parliamentary election will go ahead. She dissolved Parliament and called the early vote to defuse tension that has been building over the past three months.
Her opponents don't want an election because they know that her rural supporters would almost certainly give her victory. Instead, they are calling for an unelected "people's council" to replace the government and amend laws to fight corruption in politics.