Don't Waste Money: Maximize Value, Avoid Hassle with an Online Gift Card Registry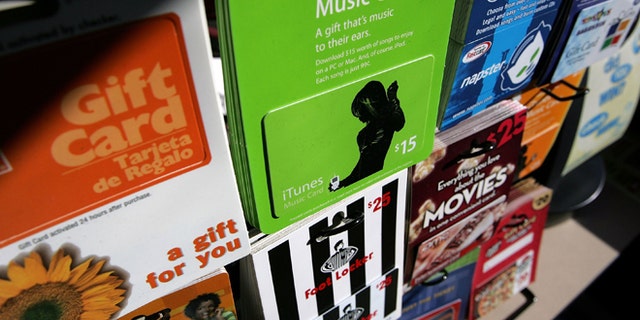 NEWYou can now listen to Fox News articles!
In an era dominated by daily deals, websites dedicated to coupon codes and Black Friday sales that cause stampedes rivaling that from the Lion King, it's surprising that people are still so willing to sacrifice value when it comes to their gift cards. I mean, more than $43 billion in gift cards have actually gone unused since 2005, according to the research firm TowerGroup.
Much of this can be chalked up to apathy or good old-fashioned forgetfulness, but we must not forget to factor in poor gift giving as well. Recipients simply may not like the stores whose gift cards they receive, and too often they wastefully keep their unwanted gifts.
Therein lies the primary reason why utilizing an online gift card registry is a good option for the holiday, wedding, and graduation seasons: You'll get the gifts you want from the start and will ultimately garner much more value. (Although I am admittedly biased in recommending a gift card registry, please hear me out and decide for yourself.)
For those of you not familiar with gift card registries, allow me to fill you in. They're basically hassle-free wish lists that allow you to pick the stores from which you'd like to receive presents and then share your selections with friends, family, or an entire invite list via e-mail or Facebook. You can even print one out and mail it to your out-of-touch grandmother. That way, whether your guests decide to buy you gift cards or items from the stores on your list, you'll at least be assured of getting something you like.
As a result, using a gift card registry will also help you:
• Combine & conquer – You'll never be able to ask for gifts that cost above a certain amount, depending on your friends and family's financial situations, but by directing gift givers to a select number of your favorite stores, you can compile enough gift cards to buy these sorts of expensive items that it is rude to ask for. For example, this approach could help newlyweds afford a new couch or a college freshman a mini fridge.
• Get more valuable gifts – Everyone has a gift giving budget, and that usually includes shipping and wrapping fees. When you ask for gift cards, gift givers don't have to waste money on these types of fees, and they also have the ability to get more bang for their buck by purchasing discounted gift cards from an online gift card exchange.
• Reduce hassle – Not only will you be able to avoid having to answer, "so what do you want?", you won't have to go through the awkward process of figuring out where a gift giver purchased a specific item and how you can obtain the receipt in order to return it.
• Escape empty-handed returns – Even if you do have to trek down to a store to return a particular item, your destination will be one of your favorite stores and you'll be effectively armed with store credit to use as you please.
• Easily get some extra cash – While you can certainly resell clothes or other common gift items, gift cards lend themselves well to a secondary market primarily because they afford buyers purchasing flexibility.
Just think what this could mean for you when the tables are turned as well. You'll be able to impress people with better gifts (both in terms of value and suitability) while actually saving time and money.
Ultimately, there's no question that gift cards are popular. They've been the most sought after type of present the last six holiday seasons, according to the National Retail Federation. But that doesn't mean we've quite figured them out yet. We still treat gift cards almost like play money, as evidenced by the fact that more than 50% of gift card recipients end up spending more than the amount on their cards when cashing them in. As long as we can manage to avoid overspending, gift cards and the savings they provide will undoubtedly be a boon in this troubled economy.
Odysseas Papadimitriou is the CEO of WalletHub and CardHub – a leading credit card and gift card marketplace.