DOJ, Maricopa County settle three charges in Sheriff Arpaio discrimination suit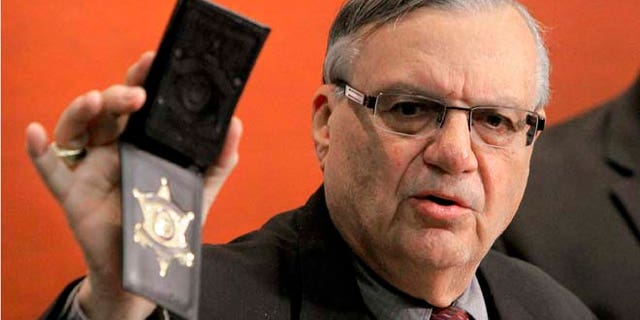 PHOENIX (AP) – County officials in metro Phoenix voted unanimously Wednesday to settle parts of a lawsuit that the U.S. Department of Justice brought against a sheriff known for cracking down on illegal immigration.
We settled the three easy ones. The big one is not resolved and scheduled to go to court
But the settlement by the Maricopa County Board of Supervisors doesn't cover the largest allegation — that Sheriff Joe Arpaio's agency racially profiled Latinos in its regular traffic and immigration patrols.
Supervisor Steve Gallardo said that issue will proceed to a scheduled Aug. 10 trial in U.S. District Court in downtown Phoenix.
The suit filed in 2012 also alleged that the sheriff's office retaliated against its critics, didn't provide Spanish language interpreters in its jails and discriminated against Latinos during workplace raids.
Gallardo said the settlement will include Justice Department oversight, additional training and policy changes but no monetary damages.
"We settled the three easy ones. The big one is not resolved and scheduled to go to court," Gallardo said. "The biggest concern is that this is not just window dressing. That there will be real change. The DOJ will hold a heavy hammer over the sheriff's office, and there must be compliance."
A call to Arpaio's office seeking comment wasn't immediately returned Wednesday.
Arpaio, the 83-year-old sheriff of Arizona's most populous county since 1993, has previously called the Justice Department's civil rights case against him a politically motivated attack by the Obama administration.
The retaliation allegation centered heavily on legal and political disputes in which Arpaio and a county prosecutor launched investigations of county officials and judges who were at odds with them. The sheriff's office had said the investigations were aimed at rooting out corruption in county government.
Arpaio's office was accused of discriminating against Latinos during raids of businesses that were suspected of hiring immigrants who had used fake or stolen IDs to get jobs.
The sheriff's office conducted 83 business raids from 2008 through 2014, arresting hundreds of immigrants. Arpaio agreed to stop the busts shortly before a judge barred him from enforcing two identity-theft laws that were the legal underpinnings of the raids.
The Justice Department alleged Arpaio's jail officers routinely issued commands in only English, refused to accept grievances and other documents written in Spanish and pressured Spanish-speaking inmates to sign forms in which they gave up their rights to immigration hearings and speak with an attorney.
Arpaio's office denied the allegations, saying it has taken reasonable steps to ensure that the inmates in question have adequate access to basic services.
Gallardo said the board that oversees the county's budget has been grappling with its obligations to pay Arpaio's legal bills.
The sheriff's office still is embroiled in a federal contempt of court case over Arpaio's acknowledged violations of court orders in the racial profiling case, including letting officers conduct immigration patrols for 18 months after being ordered to stop them.
Taxpayers will be on the hook for $45 million by the middle of next year because of the case, and the tab is expected to grow considerably larger.
The county has had to pay an additional $74 million related to Arpaio that is separate from the racial-profiling costs. That figure includes judgments, settlements and legal fees involving Arpaio's office during his tenure, covering things such as lawsuits over jail deaths and the lawman's failed investigations of political enemies.
"The sheriff's office has cost us hundreds of millions of dollars with these tactics," said Gallardo, who has often been a critic of Arpaio. "We should never have been put in this position. This is the sheriff's doing."
"We are pleased we can settle these three items and move forward," supervisors chairman Steve Chucri said after the 5-0 vote Wednesday. "We will continue to work with the Justice Department and the Sheriff's Office to clear up any ongoing concerns about traffic stops and hopefully settle that portion of the lawsuit in the near future."