Djokovic announces engagement on Twitter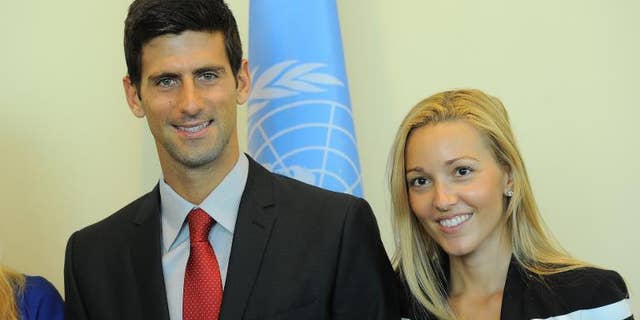 Paris (AFP) – World number one Novak Djokovic took to Twitter to announce his engagement to swimwear model girlfriend Jelena Ristic.
Alongside a photo of the happy couple Djokovic, 26, tweeted late Wednesday: "Meet my fiance and future wife :) So happy! Thank you for wonderful wishes #NoleFam and friends"
Ristic, 27, who as well as modelling also runs her future husband's charitable Novak Djokovic Foundation, is a frequent courtside spectator.
She and Andy Murray's girlfriend Kim Sears emerged as the queens of Centre court at Wimbledon this year, the glamour duo living every point as their respective partners slugged it out for the All England Club title.
Ristic and Sears wear their hearts on their sleeves and often appear to be suffering more than the players when the going gets tough on court.
Ristic, who lives with Djokovic and their pet poodle Pierre in Monte Carlo, has admitted she finds it impossible to remain detached from the action while her boyfriend is putting himself through yet another gruelling match just yards away from her.
That was clear to see when Serbia's Djokovic survived the longest semi-final in Wimbledon history, defeating Juan Martin del Potro in a bruising encounter that lasted four hours and 43 minutes.
"You can get very passionate when watching your boyfriend from the players' box. We just want them to be happy. You don't want to see them in pain. If they are not happy, neither are you," Ristic told British media after that game.
Djokovic went on to miss out on his second Wimbledon title to Murray -- and this month lost out in the final of the US Open to Rafael Nadal.